Healthcare marketing trends are changing every year. It's essential for marketers in healthcare IT to pay attention to the latest shifts in marketing trends to ensure they are reaching their audience using the appropriate content and channels.
So, what's on the minds of marketers in the healthcare software industry?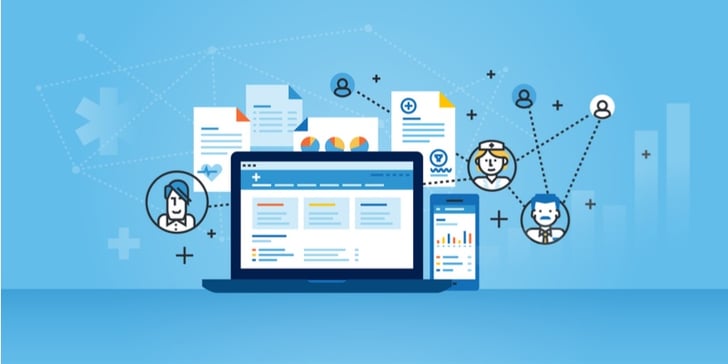 Healthcare marketing will focus on everything from the way people are engaging with social media to changing search engines to artificial intelligence.
Here are ten trends you can expect to see for healthcare marketing in the coming months, especially as they relate to healthcare technology.
1. Wider Adoption of Artificial Intelligence
Artificial Intelligence (AI), is already becoming more widely adopted in the healthcare industry throughout the past year. Not only is AI being used more in the medical field, but also with marketing. For example, chatbots are just one way that marketers have begun to embrace using more technology. For companies in healthcare IT, utilizing a tool like this can be incredibly helpful for guiding questions to the right person.
You might wonder if using chatbots is secure for organizations and the patient – be sure to double check the technology you plan to use, but most should be HIPAA compliant.
2. A Video Marketing Strategy is a Must
As video marketing continues to be consumed by your audience, it's crucial that you not only have video content, but a strategy that is defined and ready for implementation this year. Facebook recommends video ads should only be about 15 seconds long for optimal viewing. Other tips for videos on Facebook – capture attention early, keep your message simple, design for sound off, and Live and streaming videos are another great way to engage with your audience.
Facebook isn't the only platform for your video strategy – consider your audience. If they're present on Instagram, Instagram stories are a must. Or if you're planning to release longer videos, YouTube is a great platform, especially with its search engine value.
3. Search Engine Marketing Continues to Change
Given the rising trend in voice search, many people are not only using Siri when searching for information, but they are also utilizing Google Assistant and Alexa. This has begun a shift for marketers in healthcare when it comes to optimizing website content.
Searches are becoming more conversational and marketers must consider user-intent when developing content and create the long-form content that your audience is looking for. Another area to consider – location is crucial when it comes to people finding your business online. Online listings must be accurate and easily found when people are searching for a business that's nearby. Searchers are looking for businesses with information readily available such as contact information and reviews.
4. Facebook Optimizes for the Content People Want
With Mark Zuckerberg's latest announcement, many businesses will find that it's even more challenging for their audience to see content they're posting. As if getting engagement for organic content wasn't difficult enough, this year will bring more challenges for healthcare software companies trying to reach their customers on this social network.
With this challenge, many marketers are already investing in Facebook ads. As marketers, we have to shift our expectations and utilize the tactics that will best reach our audience. Consider investing in Facebook ads this year to ensure you reach your audience.
5. Spark Conversation with Relevant Content on Social Media
Your business is healthcare technology – we get it. But your audience – and customers – work in the healthcare industry – they're seeking information about the latest industry news and want to know if you're keeping up with the most recent industry information as well. By creating content related to wellness either on your website or social media, this will help engage your audience this year.
In addition, social networks are changing everyday – so it's important for marketers in healthcare software to keep up with the most recent changes on any networks you're using for your company. For example, Instagram stories are expanding, live streaming via Facebook is increasing, and Twitter may be on a decline.
6. Increase in Patient Engagement
With the advancement of patient portals, patients are becoming more engaged with their healthcare providers. For marketers in the healthcare space, this means that you must be aware that patients are more willing than ever to interact with their provider. In turn, healthcare providers are making improvements to portals and offering more opportunities for patients to engage outside of a traditional setting. Knowing this, it's important to consider the patient side of your services or products when marketing your company.
7. Proactive Protection of Data
Another predicted trend for this year is that healthcare organizations will be more proactive about preventing any security issues when it comes to the data their systems keep. This security again places the patient experience above other priorities in order to help patients trust their providers. When it comes to security, healthcare organizations know that it's vital for patients – so it will be a high priority when they're seeking software as well.
8. Optimized User Experience
The opinion people will develop about your brand comes from your website – it's crucial for healthcare software companies to keep this at the forefront of their digital marketing strategy. Consider questions like, Does your website require a refresh? Are users enjoying their time on the site and finding the information they're searching for?
A good user experience doesn't happen by accident. Marketers should conduct research using a tool such as Hotjar or Crazy Egg to ensure they're creating an ideal user experience. Looking at website analytics will also be crucial here, as you explore which pages and offers are the most effective.
With more consumers spending time on mobile devices each year, healthcare technology companies must ensure their website and user experience are optimized for these devices. However, also keep in mind that it's not only about mobile – experiences on other devices are still valuable.
9. Utilize Data to Improve Marketing Strategy
Just as data is a key component to inform changes in the healthcare industry, we can't emphasize the importance of data enough. Regularly reviewing analytics about the people engaging, or not engaging, with your content, website, and offers will inform how you must make changes to your digital marketing strategy or even your website in the future.
10. Make a Human Connection with Digital Marketing Strategy
Above all, it's important for marketers in healthcare technology or software to remember that there are humans behind the personas you target. Create a digital marketing strategy that reaches organizations, but ultimately people, on a personal level.
You made it through all of the trends! So, what's next for your company's marketing strategy? If keeping up with all of these trends seems daunting – or it has already been too much to keep up with this year, schedule a 30-minute chat with Spot On to discuss the development and execution your digital marketing strategy this year.