10 Highlights from Inbound 2017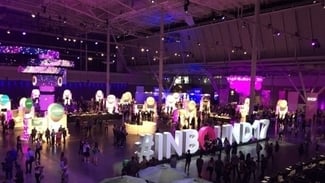 Last week, the Spot On team enjoyed Hubspot's Inbound 2017 Conference. Along with attending breakout sessions, listening to inspiring keynote speakers, and networking, we enjoyed a new experience by staying in a houseboat rather than a traditional hotel.
Read about some of our favorite moments, speakers, and product announcements.
Staying in a Houseboat – If you're searching for a new experience while attending Inbound, opting to stay in a houseboat is it! While a traditional hotel is more convenient, our team loved staying in a charming houseboat that was a quick Lyft ride from the Boston Convention Center.

Partner Day – As a Platinum partner with Hubspot, we were delighted to attend Partner Day, which was a day before Inbound 2017 officially began. We enjoyed talking with other partners from all over the world and running into others we knew from previous events. In addition to networking, we attended several sessions specifically for partners with topics such as the new approach to content strategy and the latest Facebook marketing strategy.

Keynote Speaker, Brené Brown – A great opening keynote, researcher and best-selling author, Brené Brown shared beautiful insights into how people interact today. Specifically, she shared how disconnected we have become and the importance of knowing what it truly means to belong.

Keynote Speaker, Michelle Obama – Aside from the thrill of simply seeing Former First Lady Michelle Obama, we also enjoyed hearing her wisdom about embracing your authentic self, whether you're in the political spotlight or not. Waking up early to get through security was definitely worth it.

The New Content Strategy – As search engine optimization (SEO) continues to evolve, it's vital that we keep up with content strategy. Hubspot's new Content Strategy tool allows you to create topic clusters that surround core pillar pages with supporting links to blog posts, which serve as the subtopics. Read our recent blog post to learn more.

Facebook Lead Ads – Another exciting addition to Hubspot's tools, is the ability to create Facebook Lead Ads. This will allow users to target current contacts as well as pull new leads into their Hubspot portal. Look for a blog post in the next couple of weeks with more details.

Customer Conversations in Hubspot CRM Free – In 2018, Hubspot will introduce a better way to communicate with customers. Along with seamless communication, this tool also provides automation rules and bots that will help you manage conversations more effectively.

New Version of HubSpot Sales Pro – An all-in-one sales toolkit for professional sales teams, the updated version will assist with the organization of prospects and customer information. It will also include better productivity tools like meetings, templates, sequences, and inbox integration. In addition, you can super charge your sales team with improved reporting and predictive lead scoring. The good news is that it will be available November 1, 2017. The bad news? The price will increase to $400 for up to 5 licenses after that date. Purchase it now for $50/month/user (before 10/31) and beat the price increase – forever!

Session Highlight – End Toxic Content – Author of Writing Without Bullshit: Boost Your Career by Saying What You Mean, Josh Bernoff, shares crucial tips for writing better content. Over the last few years, marketers have been told that we need to increase the amount of content we're creating. Bernoff shared the importance of creating concise and high-quality content, with the ultimate goal of treating the reader's time as more valuable than your own.

Session Highlight – Billion Dollar Boiler Room Best Practices – Chris Smith, author of the national bestseller, The Conversion Code. Smith focused on how to capture and convert Internet leads and close them into sales. Smith shared his script "code", developed after working for billionaires Dan Gilbert of Quicken Loans, and Lou Perlman, who made household names of Britney Spears, NSYNC, and Backstreet Boys for over a decade.
Did you attend Inbound this year? Share your favorite moments in the comments below. Click here to learn more about this year's product announcements.
If you're ready to improve your inbound marketing strategy, schedule a time to chat with us.