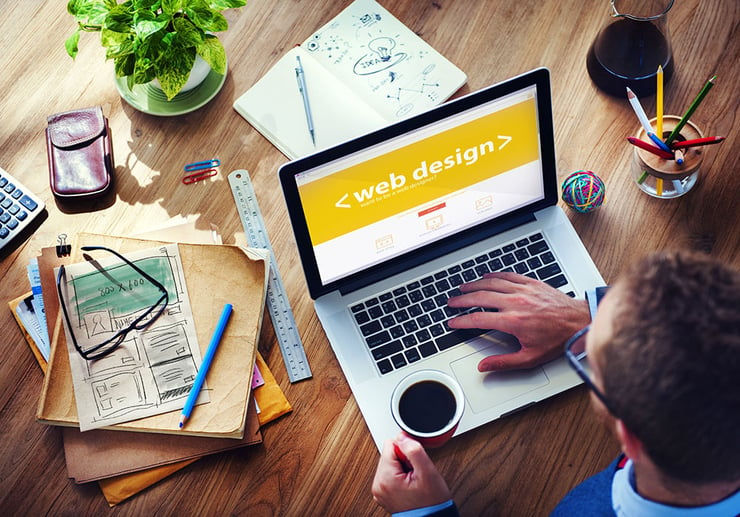 You're on the fence. It may not have been that long ago when you were in a similar situation, writing copy, approving designs, testing functionality and chipping away at your yearly marketing budget for a new website design. But as you've stayed on top of the latest trends, kept an eye on competitors and helped your company grow, you wonder if it's time to rethink your most important marketing asset.
So how do you know when it's time for the overhaul? It comes down to design and structure.
Here are twelve issues to look to assist you when determining your next move:
The Design

Often the most obvious reason a site should be redesigned, is that the look and functionality is starting to feel outdated. Do any of the following qualities sound familiar?
1. 3D Design
There was a time when beveled buttons, gradient banners and dramatic text drop shadows were readily used to give your site a 3D look. Over the past several years, the trend has done a 180 and now "flat" design has become the predominant style. As defined by CreativeBloq, "Flat design is a minimalistic design approach that emphasizes usability. It features clean, open space, crisp edges, bright colors and two-dimensional illustrations."
While there are certainly tasteful ways to incorporate bevels, gradients and shadows into your website, the way in which these techniques are used has shifted. For example, rather than using a solid color that fades to white on a menu bar to make it look three dimensional, one popular look is fading one analogous color into another, such as green to blue for background sections and images. HubSpot and Stripe are great examples of this "gradient 2.0."
Beveled buttons adapted to "flat" design no longer have a glossy or embossed style. Take Kin HR for example. Their call to action buttons use a subtle beveled look at the bottom, giving it a clean and classic appearance.
Lastly, drop shadows have become softer and subtler and are used to draw emphasis to specific areas, or behind screenshots for SaaS companies to incorporate a more realistic look.
2. Full Width Banners with Fixed Width Content
Most modern websites have full-width layouts. This means that the headers, footers, photos and backgrounds span all the way from the left to right edges of the screen, without gaps on either side. Another modern approach is a fixed width layout, where all elements fit within a specific width and there are margins running down the entirety of both sides. It's when a website has full-width headers, banners and footers, but the rest of the content is floating in the middle that the look is likely outdated.
3. Generic or Inconsistent Graphics
When it comes to photography, the more personalized you are, the better you can connect with your target audience. This is why obvious stock images throughout your site of people looking directly at the camera aren't a great fit. If possible, the best solution is to use custom photography, but if it's not an option, the photos should at least represent and resonate with your buyer. For illustrations and icons, they should be created in a modern style and have a seamless look from page to page.
4. It's Basic
Your current website may be the only design you've ever had, which means there's a chance it was either built in a hurry, on a budget, or both. Now that you are more established, it could be the right time to make the change to a better template or custom design in order to really stand apart from your competitors.
5. New Branding
New branding usually comes with a logo redesign, updated colors, and a style guide. If you recently went through this process it only makes sense that you would want to apply the updated aesthetics to your website. Typically it takes more than a few tweaks here and there to implement a completely new style, so it's usually best to start with a clean slate.
6. Non-Responsive or Separate Mobile Website
Mobile and tablet user experience should not be discounted for your B2B site. According to the Boston Consulting Group, "B2B buyers look for the same online and mobile experiences that they encounter as consumers" and "increasingly use mobile phones to get information." In addition, it's important that your site is not just mobile friendly, but responsive on all devices as well. Visitors expect a similar experience on mobile that they receive on desktop, which is why a responsive site is favored over a completely different mobile layout.
7. Difficulty Making Changes
As time has passed since your last site design, content management systems for building websites have drastically improved. HubSpot and WordPress have left Joomla and Drupal in the dust. If you have difficulty making simple to edits to your site, it may be a good opportunity to switch to a new platform.
The Structure
Another factor that can indicate it's the appropriate time for a redesign is if your website or company is in need of structural changes. Three signs from a website perspective include:
8. Numerous Pages with Minimal Content
Not only is this practice bad for SEO, as search engines favor longer pages with quality content, it's also bad for the user experience. Consolidating pages with related information can help strengthen your rankings and gives the user one central location to find what they need. Each of your pages pages should have a bare minimum of 200 words.
9. "Walls" of Text
If reading pages on your website is like reading a novel, it's going to be difficult for the user to digest the information. Most visitors are not willing dig through paragraphs of text to find what they need. Your pages should be broken up into multiple sections with clear headers, engaging graphics throughout and as much bulleted copy as possible to make scanning a breeze.
10. No Visual Hierarchy
When you visit a website, it should be clear what the company wants you to look at, and in what specific order. A common problem is when there is no visual hierarchy, the elements have to compete for attention. Make sure the most important elements are the biggest and located on the top left side of the page. The less important content should go near the bottom and on the right-hand side.
A shift in the structure or focus of your company can also indicate a redesign is in order. Two of these reasons may include:
11. Changes in Company Focus
Major changes in the nature of your business could trigger the need for a redesign. For example, if you are adding and/or removing a lot of products or services around the same time or switching from one target audience to another, a new website may be in order to properly convey your new business direction.
12. Acquisition
Merging multiple companies is a big transformation. Personnel, products and services, and physical locations are all subject to change, which will likely need to be reflected on your website as well.
The web is an ever-evolving medium, and when it comes to your website, you should never "set it and forget it." It should grow with your company and industry over time and provide the best possible user experience. If one or more of these signs ring true for you, there's no time like the present to bring your website to the next level.