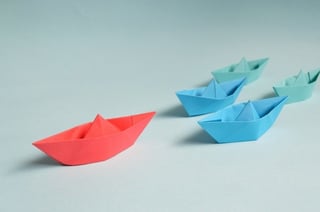 Being a copycat is never a good idea, but it is always wise to analyze successful healthcare SaaS marketing teams to see how they do what they do. What tools are they using? Where do they go to learn about their target market? What strategies are they employing to nurture prospects and clients?
While their tricks and approaches might vary slightly, keeping an eye on consumer trends is a common denominator of successful health marketing, allowing brands to engage more fully with their network. This keeps them riding high on the wave of success.
Take Your Lead From Consumer Trends
Here are some of the consumer trends top healthcare marketers are keeping an eye on this year:
Rising healthcare costs are driving consumer awareness
The reality is that a combination of inflation and instability in the health insurance realm (a combination of the Affordable Care Act's shaky start, and a significant administration change threatening to overturn the ACA) is driving healthcare costs upwards.
According to NRC Health, "...because they have more money at risk, [consumers] will be increasingly engaged in their healthcare and become more price sensitive for primary and retail healthcare services. They will use the ever-increasing Internet sites and apps to price shop and check cost, quality, and access to provider."
Your Job: Create as much transparency as possible across website content and social media engagement so prospects and patients can easily make comparisons between you and competitors. Active social media engagement will help to personalize your brand so patients are more willing to engage.
Healthcare IT, including patient portals, are here to stay
Intel and other IT experts are happy to report that the era of user-friendly healthcare technology has finally arrived - resulting in 74% of healthcare businesses relying on some version of a patient portal.
In addition to cutting costs and streamlining everything from patient check-in to pharmacy refills and reminders, patient portals help to keep consumers engaged with their providers. Portals and telehealth tools/apps also expand your ability to tap into the homecare market, which is exploding as a result of the aging baby boomer population and a cultural shift in the way we view end-of-life care.
Your Job: Promote patient portals, patiently teach your market how to use them, and optimize portals to the max to reap all of the potential benefits. Make the apps as user-friendly as possible so they are as accessible from a laptop computer or mobile gadget as they are in the reception room of your home office or clinics.
Create a positive online presence via review and referral sites
From published Pew and Google reports on healthcare consumer trends, we know that between 70% and 90%+ of healthcare consumers head online to read reviews before choosing a healthcare facility or a specific care provider. Professional and word-of-mouth referrals are integral to your success, both of which depend on your brand's reputation.
What people are saying about your brand matters, and your engagement on those sites is a direct reflection of who you really are.
Your Job: In addition to highly-targeted content creation across the board (and including social media), ensure you have a fully-developed and optimized profile on all relevant review site so you know prospects and patients will find you. Seek requests and referrals from your established client base, and make sure PR and/or marketing staff are diligently replying and engaging with those who take the time to share - even (and especially) with negative reviewers.
Focusing on consumer trends will help you to stay ahead of the healthcare SaaS marketing curve and brand development.
If you're newer to the marketing side of things, focus on what big industry players do to stay on top. Then use that insight to develop marketing strategies relevant to you.