Whether your business is B2C or B2B ... no matter how many years you relied on radio, coupon books, Yellow Pages, cold calls, fliers and newspaper ads … when you're talking about today's marketing, you're talking about digital (or internet) marketing.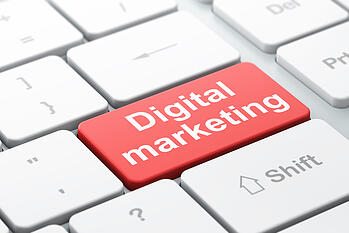 Consumer behavior bears this out: according to the marketing authority HubSpot, 50 percent of shoppers spend 75 percent of their time online before ever making a purchase.
They're looking for comparisons, reviews, prices, and comments from other shoppers.

They're searching for valuable information tied to the product or service that they are ready to purchase.
But at the same time, consumers are savvy to the ways of marketing in general and Internet marketing in particular. Think about it: We fast-forward our DVR through TV commercials, use the Do Not Call registry to screen telemarketers, and install pop-up blockers to avoid ads on our computers.
Tip #1 - Reach your audience
In a digital environment, the key to reaching new customers – and engaging the ones you already have – is not by bombarding them with sales pitches. Instead, you need to speak directly to their needs and interests through the channels they use every day; the Internet, blog articles, facebook, twitter, LinkedIn, your website, search engines. In short you can reach your audience using inbound marketing services.
Tip #2 - Having a website isn't enough
Certainly, having a professional-looking website is the foundation of your digital marketing strategy. But it doesn't end there.
You need to identify people likely to respond to your business – and that's no small task considering the billions of people surfing the millions of websites every day. There are plenty of tools out there. Use them to determine what your audience is looking for and the words they use to search for you. Be specific. Who cares if there are millions of people searching for shoes. People searching for red running shoes do not want to wade through results for walking boots.
Tip #3 - Inbound marketing strategies can help
Today's proven way to reach digital consumers; inbound marketing lets small businesses compete on the same playing field as major corporations.
This marketing discipline is based on a three-part tactical plan designed to help people seek out your website – not stumble upon it.
1. Generate traffic. Inbound marketing is driven by content that speaks to people without a blatant "pitch." Blog articles, info graphics, eBooks, videos and podcasts serve to inform, educate and persuade visitors who are already invested in the subject matter. When you post great content regularly on your Facebook page or Twitter feed, you build your company's credibility, gain followers, and enhance your "organic" (authentic) search rankings in the ever-finicky Google results environment.
2. Convert traffic to leads. Your great blogs and videos may net you thousands of followers, but that doesn't add up to thousands of customers. So the second step of inbound marketing is designed to identify the qualified leads among the casual visitors. To accomplish this, you create CTAs and dedicated landing pages on your website that offer exclusive or premium content, such as a special podcast or an original whitepaper, in exchange for the visitor's contact information.
3. Prompt leads to decision. Having earned credibility through your content and analyzed your leads by tracking the content that gets the most "clicks," you can now proceed to the third step. Use automated emails to extend customized offers – a free consultation, for instance, or special new-customer pricing. Encourage your leads to contact you directly, or to accept the call or visit of your sales rep.
If you want to reach today's customers, hang out where they do – online. Inbound marketing is the ideal digital marketing strategy to help you meet your Internet marketing goals.