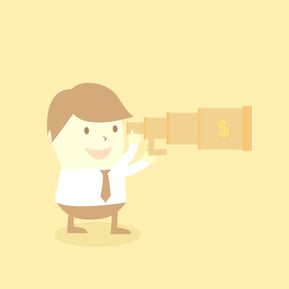 A constantly growing website and an integrated social media presence are both critical components for generating virtual smoke signals that e-searchers can find in the jungle of online options for solutions to their business's problems. A business's online presence must be multifaceted, and a single page website simply will not do in today's overcrowded online space. The incorporation of social media in conjunction with a solid website increases the extent of your reach, and strengthens your inbound marketing impact.
BUILD YOUR WEBSITE'S PAGE COUNT


Being found by Google and Bing search engines is key to fanning the flames fueling your online smoke signal. While filling up hundreds of pages with keywords is no longer an effective SEO practice, the number of quality pages that a website contains really does boost its visibility, allowing visitors to locate you more easily. Although it will take some time to implement a growth driven website design, patience is the most important of virtues when it comes to inbound marketing strategy efforts. Remember, it is not going to be enough to merely have a high quantity of pages. Your pages must also rise to quality standards for search engines to present them in search results.

One of the best ways to add content to your website is through an insightful blog that is regularly updated. Google and Bing are looking for quality, so aim for an exemplary user experience for your target marketing personas. Invest the time necessary to craft helpful content aimed at the very specific needs of all of your inbound marketing buyer personas throughout your website and your smoke signals will surely be noticed, even if it takes a little bit of time.



SOCIAL MEDIA: THE ULTIMATE ONLINE SMOKE SIGNAL


One of the best ways to draw attention to your company's online presence is through the frequent use of various social media platforms. You may already have a Facebook, Google+, LinkedIn and/or Twitter account along with a website and possibly also a blog. Don't let these networks lose their spark or grow cold. Create a continuous stream of helpful and insightful content for these outlets and you will eventually develop an army of social media warriors who will pass on your messages on to their social network of friends and followers, which will, in turn, lead more people towards your high quality, relevant content.

Make a point of fostering virtual connections online just as you do offline – it's virtual networking. It will greatly improve the visibility of your company's virtual smoke signal while simultaneously boosting the perception of your company's brand.



STOP THINKING OF YOUR WEBSITE LIKE A BROCHURE


Just as social media and blogging provide pathways to responsively engage with people, your website should follow the same inbound marketing strategy. Modern websites are constantly changing, showing site visitors a living, breathing entity that is truly dynamic. The proper growth driven website design will propel the online component of your inbound marketing strategy to new heights. View your website as an opportunity to engage with people as they are drawn towards your virtual plume of smoke signaling a source for solutions to their needs.