3 Trends in Educational Technology That Affect Your Marketing Strategy
Technology is continually transforming the classroom, and in this era of hyper-connectivity, the trends in EdTech are raising new concerns among educators. Your marketing efforts must go beyond highlighting the features and benefits of your products. The buyers and users of new educational technology need information, solid data, training and support if they are to change methods, and embrace innovation.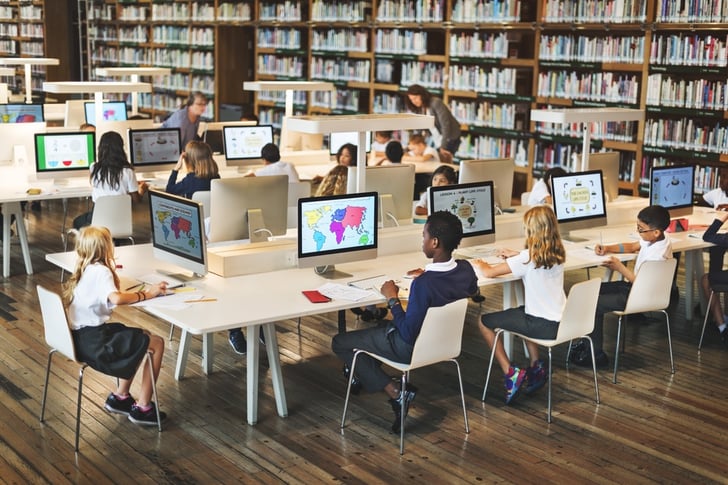 Trending Educational Technology Presents Marketing Challenges
As an EdTech firm, you understand the exciting potential advances in technology have to enhance student learning, increase teacher effectiveness, and streamline administrative tasks. Your current and potential buyers have the same enthusiasm, but it is edged with apprehension. Change is uncomfortable. While the majority of educators have accepted the need for technology in education, there are still concerns.
When educational technology first began nudging its way into classrooms, it was a fairly easy sell. Filmstrips were relegated to storage rooms in favor of VCRs, and then DVD players. It was not difficult to convince school districts that building-wide platforms for taking attendance and recording grades were more efficient. Selling today's trending educational technology may be a harder lift.
The trending technology in education doesn't look like the old ways. Interactive whiteboards weren't that distant from chalkboards, and online grade books had the familiar rows and columns of the hard copies they replaced. Educators happily bought into the new "smart" classrooms. Compare the advances of the past two decades with the technology that is driving education today. Innovations in education have becomes disruptive, requiring new behaviors and new ways of thinking. Advances often outpace the ability of educators, and their budgets, to adapt.
Emerging Trends in Educational Technology Raise New Concerns
1. 1:1 Becomes One to Many Devices
Computers labs, for the most part, have gone the way of the CRT monitor. Bringing devices into the classroom and putting one on the desk of each student eliminates lost instruction time and interruptions caused by a class trip to the lab.

Purchasing laptops or tablets for each student is costly and redundant in a time when most students have their own devices. The trend in education is to employ EdTech that will seamlessly connect with a wide spectrum of devices. Products that lack this universal capability will leave many students behind.
2. The Internet of Things
Consumers have become accustomed to remotely controlling their home's thermostat and wearing wristbands to record their heart rates. However, moving this technology into the classroom comes with privacy issues. Connecting students to a central monitoring system will improve efficiency when it comes to classroom management. For example, wristbands worn by students can automatically log attendance and automatically load assignments to a student's device once a student is seated.
With this technology teachers can electronically monitor students' cognitive activity or remotely send "please refocus" messages to distracted learners. But is this enhancing education or simply going too far? How much personal information about the student should these connective devices make available? FERPA strictly regulates who has access to health records and individualized education programs (IEPs). Does this access infringe on student rights?
3. Virtual Reality and Augmented Reality
Immersive learning is the buzzword, and the potential of VR and AR to help students better grasp complex subjects is driving this trend. This technology creates multi-sensory experiences that reach users on a deeper, emotional level, which positively affects learning and retention. But while it is still a few years away from mainstream adoption, this new technology is costly and educators may question its cost-effectiveness. Creating something similar to STEM makerspaces to give everyone access might make sense in the short-term.
How These Concerns Affect EdTech Marketing
New technology requires hours of professional development. Faculty and staff must master the technical end of using new technology. Spending 15 minutes of class time trying to solve a "no signal" problem will scuttle the most perfectly planned lessons. Educators also need to understand the pedagogy behind these new EdTech products. Merely tweaking old lesson plans to make use of that shiny new technology will not maximize its potential. Whole curricular units may need to be built from scratch, a daunting task. To market these products, you need to provide support in the form of training (to avoid that bouncy "no signal" notice) and you need to offer suggested uses, prototype lesson plans and templates.
Education professionals may also question the wisdom of relying too heavily on technology. Just recently, several hundred schools in New York State, ones that had made the switch to computer-based testing, found themselves quickly rescheduling their ELA Common Core exams when a local server had "connectivity issues"
Glossy brochures and slick promo videos may generate interest in your products. However, your marketing strategy needs to address all the above concerns. Your targets are varied. You must reach new and veteran educators and administrators, pre-service teachers and teacher education professionals.
You can accomplish this with a robust digital marketing strategy to inform and educate potential buyers and users. At the same time, you want your marketing to further your brand and establish your company as a trusted industry expert. Contact Spot On to learn more about how of a multi-faceted marketing strategy can help your EdTech business.