It's 2019, and the results are in: if you're in business, you should be on LinkedIn. With over 500 million users, 40% of whom are logging in daily, LinkedIn can connect you to pretty much anyone. However, while many of us are comfortable using LinkedIn for recruitment, networking, and branding, turning LinkedIn into a lead generation powerhouse takes a bit of strategic thought.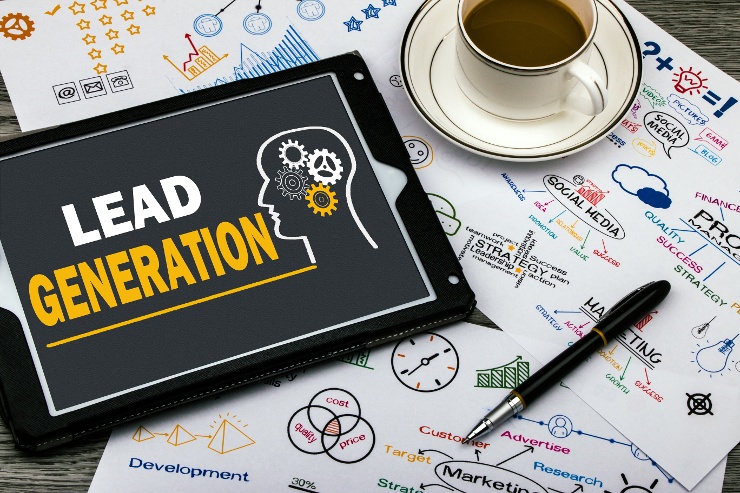 Here are 3 ways you can start seeing the leads pour in via LinkedIn:
1. Max Out Your Results with a Fully Developed LinkedIn Marketing Strategy
Many companies dabble on LinkedIn - the occasional post, maybe an ad campaign. But LinkedIn rewards those who go all in. Consistency is key: for instance, according to Buffer, "businesses that post [on LinkedIn] at least once per month have been shown to gain followers 6x faster than those that don't."
To start generating leads on LinkedIn, you'll need to put together a carefully thought-out marketing plan. Your LinkedIn marketing strategy should take full advantage of the many marketing tools that LinkedIn makes available to businesses:
Company Page
The most obvious place to start, your LinkedIn company page can be a great way to find leads on LinkedIn. The good news is that simply completing your company page can double your page visits. You'll need to include an appealing cover image, your logo, company details, and a well-worded, concise About Us that will attract the kind of leads you're looking for.
Articles
LinkedIn has become a content platform. However, with so much content out there, you'll need to publish high-value, thought leadership articles to stand out. The good news is that this kind of content is worth the investment: research from LinkedIn found that "nearly half of all business decision-makers said that reading a company's thought leadership had led directly to doing business with that company."
Video
LinkedIn videos generate more than 300 million impressions a year, and can earn 3x more engagement than text posts. Using video can not only strengthen your brand, but drive leads to your company site or specific landing pages. You can either post videos to reach out to your connections, or create video-format sponsored content to reach a wider pool of potential leads.
Groups
LinkedIn Groups can be a powerful marketing tool. Joining groups that contain your target audience can be an invaluable way of gathering market intelligence. Group members frequently share insights into their daily work challenges or share content they've found interesting - the kind of buyer persona insight that can supercharge your content strategy.
For lead generation, you might also want to consider setting up your own group to attract your ideal customers. This can help you build relationships with your target market, and also establish your company as a trusted authority.
Sponsored Content and InMail
Sponsored content allows you to run native ads in the news feed. You can sponsor a company update, meaning that you share your update with targeted customers outside your network, thus generating new leads.
With Sponsored InMail, you can send InMails directly to the LinkedIn inbox of your target market. Neil Patel calls these channels "a well-oiled tool that you can use to put your business in front of a highly selective and very profitable audience."
To make these channels even more effective, you can integrate LinkedIn Lead Gen forms, which populate your sign-up forms with the user's data, completely removing any friction from the user action. LinkedIn has found that this function doubles, or even triples, conversion rates.
Ads
No LinkedIn marketing plan would be complete without well-structured ad campaigns. While sponsored content and InMail work as native ads (meaning that they look like the other media that surrounds them) LinkedIn also offers companies old-school banner advertising options. At the lower end of the price spectrum, standard text-based PPC ads give you a straightforward way to generate leads without breaking the bank. If you have more to spend, carousel ads enable you to tell a strong story with multiple images.
2. Optimize Your Personal LinkedIn Profile for Lead Generation
Your company page is important; it enables you to run ads, gets your corporate brand out there, and helps establish your bona fides. But when it comes to LinkedIn lead generation, the secret is in building relationships - and that means creating a high-performing personal brand with your individual profile page. SmallBiz Trends reports that "people are 10x more likely to engage with employee profiles than company pages."
So, how can you create a personal profile that brings in leads?
3. Involve Your Team in LinkedIn Lead Generation
To really turn LinkedIn into a lead generation tool, make sure to involve your team in your marketing strategy. Your employees will typically have up to 10 x more contacts than your company page, so sharing your content via your team has a huge impact on its reach.
This marketing strategy, known as employee advocacy, not only builds your brand - it delivers great lead gen results. LinkedIn's research team found that "leads developed through employee advocacy convert seven times more frequently than other types."
So, how can you involve your employees in your LinkedIn marketing strategy?
Provide some motivation. Train your employees to build LinkedIn into their day-to-day routine, and make sure they know the impact it can have on their own results. For instance, LinkedIn reports that salespeople who share content are 57% more likely to generate leads, and 45% more likely to exceed their quota - in other words, what's good for the company can also be good for their bonuses!
Automate the process. Tools like LinkedIn Elevate can create an automatic pipeline of shareable content to distribute via your team's platforms, to make it easy for them to help out.
Outsource it. For instance, personal branding coach Dr. Des Natalia Wiechowski suggests, "Get your 5-10 most engaged and representative employees a personal branding strategist and content writer." A LinkedIn expert can help your employees make your company look good by polishing up their personal profiles and creating ghostwritten content that they can post on your behalf.
With the right strategies in place, LinkedIn can be a great way to reach your market and find new leads. If you'd like our help getting set up with a winning social media strategy, click here to schedule a free consultation call with one of our digital marketing experts.