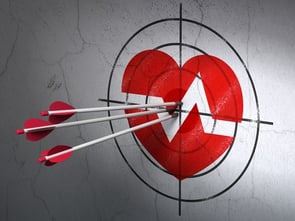 In today's tech-savvy culture, it seems that everyone with an ailment quickly clicks on their web browser even before calling their primary care provider. It's official: the game has changed.
So, how can you broadcast your accurate information to people who seem so eager to access possible misinformation with the simple swipe of a finger?
You get yourself in the healthcare marketing game by leveraging the power of the Internet to become a recognized thought leader, thus building your brand and attracting patients.
To do this, you must understand the healthcare marketing game – and how the Internet has changed all its rules. Here's a look at three ways the Internet has impacted healthcare marketing and what you can learn from them:
1. The Internet has become the primary provider of initial healthcare information.
According to a study conducted by the Pew Research Center in 2014, 87 percent of all adults in the United States use the Internet – and 72 percent of them say they use the Internet to look for health information.
Most of these people looking online for healthcare information – 77 percent, according to Pew – start by opening a search engine such as Google, Bing, or Yahoo. From there, they tend to search for topics related to specific diseases or conditions. The flu. The common cold. Back pain, rash, and lupus. Each condition searched for returns with pages of related websites promising information and references to local care providers.
In order to get in the starting lineup of the healthcare marketing game, your goal is to be found by these searchers. To do so, you must suit up with a website that provides a constant stream of answers and information that will be useful to your audience.
2. Aesthetics matter as much as the information does.
Surprising as it may be, a study conducted by researchers in the United Kingdom and published on ResearchGate cites that the way your website looks is at least as important as the quality of the information it presents.
In a perfect world, aesthetics and visual appeal would be less important than sound, factual information. But the Internet isn't a perfect world, so you must pay close attention to both the information you provide and the way your website engages your users. Consider your use of white space, font style and size, page flow, images, and ease of navigation to ensure your website feels like more than just a repository for information. Make sure it is also a visually appealing healthcare marketing tool.
3. Optimal content is optimized.
Okay, say you've got yourself into the healthcare marketing game by creating a website that provides a solid mix of factual medical and marketing information. You've made sure your website looks good, works well, and is easy to navigate. Now you have to make sure that people can find it!
The healthcare industry game involves a plethora of players – government agencies, big-time medical facilities with robust budgets and large staffs, and lots of smaller specialized healthcare providers. The goal of standing out among them may seem intimidating, but with the right help, it's not as daunting as you might think.
For people to find your website, make sure your website is SEO-friendly. Optimizing a website for search engines is part science, part art. It essentially means that your site is focused on the specific, strategically selected words that your audience is typing into search engines and that your site gives them a quality user experience when they find it.
Having and making the most of your website, blog, social media presence, and other online outlets designates whether you are a player or someone sitting on the sidelines in regards to the new way healthcare marketing works. Are you ready to suit up?