Making the transition to inbound marketing is a challenge – but you can make the process easier by tossing away some preconceived notions and ingrained behaviors that might be holding you back.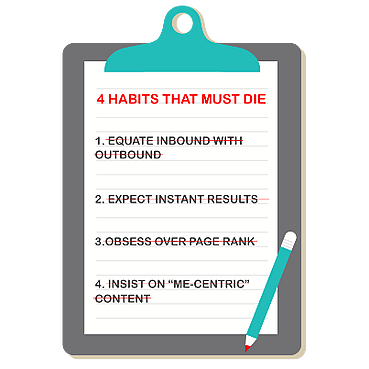 Are you guilty of the following toxic habits?
Comparing inbound to outbound
Apples and oranges – that pretty much sums up the similarities between today's inbound marketing and yesterday's outbound (also called "push" or "interruption") marketing. The way you approach, address and respond to customers is very different in an online environment. The tactics of outbound – running a display ad or a radio spot, then waiting for the phone to ring – doesn't apply to today's consumers. They're online looking for advice, help, information and engagement … not ads.
Instead … Working with your SEO company, you can develop a complete campaign that leverages inbound marketing with the complementary outbound tactics for a "best of both worlds" approach geared to a more specific audience than a display ad or radio spot could deliver.
Expecting instant results
Inbound marketing is largely designed around fostering long-term loyalty, not short-term revenue. Using your remarkable content and taking full advantage of the social media your customers visit daily, you'll establish a credible online identity. But that takes time; even the largest corporations know that turnaround doesn't happen overnight. And if your competitors have already entered the inbound arena, you have some catch-up to do.
Instead …Though 41 percent of marketers say inbound delivers return-on-investment (ROI) – compared to just 9 percent who believe otherwise – many customers agree that measuring success is a challenge. Use the services of your inbound marketing consultants to measure the "mid-funnel" ROI: the website traffic numbers, click-throughs and, especially, landing page activity garnered by your campaign. All these metrics will help you determine the next steps toward revenue: identifying your most qualified leads and following up with them.
Obsessing over page rank
Of course you want your content to get to the top of the Google results page; that's where the most people will see it. But even Google advises not going overboard in the quest for a higher page ranking. Using "black hat" tactics, for instance – keyword stuffing or integrating hidden backlinks – will only flag Google's spam-busting algorithms, called Panda and Penguin, to lower your page rank.
Instead … Google advises inbound marketers to create content for humans, not search engines. Your SEO agency can determine the optimum keywords and create clean, high-value content that integrates them logically. Take the experts' advice about programming Google Authorship into your pages to boost credibility. You can also improve your ranking by creating metadata for every page you publish – a tactic that's invisible to readers, but understood by search engines.
Insisting on "me-centric" content
Look at your website. Count the number of times "we," "our" and "us" are used, compared to "you" and "your." Inbound marketing is not about you – it's about your customers and prospects. Their interests, needs, desires and even fears are what inspire your messaging. Blogs, videos, white papers and other content need to impart real value.
Instead … As Good Technology Vice President Julie Gibbs told Marketing Sherpa, "We talk about digital, we talk about social, and they are critically important, but nothing replaces sitting down and having a conversation on a regular basis … building the relationship and understanding your customer's point of view." Fostering regular interaction, developing marketing personas and maintaining an active social network presence will help you get a better grip on what your audience wants, and the best way to deliver it.