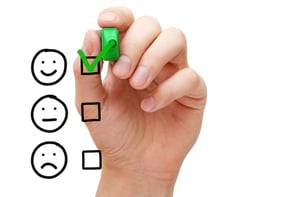 Delighted. Fascinated. Engaged.
Customers today are expecting to feel all of the emotions above and more. It's no longer enough to just meet a customer's needs and go on your merry way. To foster loyalty, you need to make them feel incredibly special to your brand.
While this may seem like a lofty goal, rest assured it is no pipe dream. You and your team can delight customers in a way that turns them into lifelong promoters of your brand with inbound marketing.
Before you rev up your customer delight plan, let's first discuss why inbound is critical to success.
1. It Brings Out Your Brand's Star Quality
Maybe you're not the type to fawn over celebrity lifestyle magazines. However, chances are if you saw an A-List star out and about, you'd move closer for a better look. This attraction works the same way with your customers.
We all love rubbing shoulders with our favorite brands. Getting up close and personal with an organization makes customers feel, well, a little more special. When customers know they're important to your brand, they'll come back again and again for that superb service (and bring others with them).
2. Customers Expect Engagement
We're not encouraging you to do things just because others do them. Still, the fact of the matter is customers are looking to be delighted.
In fact, our brains react positively to surprises. For businesses these could include think rewards programs, customer content, and giveaways. Researchers at Emory University and the Baylor College of Medicine found that our brain's pleasure centers, or nucleus accumbens, light up when we receive an unexpected reward – it turns out everyone likes a pleasant surprise!
3. It Pays Off in Reciprocity
Good service isn't just about avoiding mistakes. It's above going above and beyond. When you develop strong relationships with customers, they'll go out of their way to return.
Consider the smartphone market for reference. Apple takes in half of all mobile phone market profits with only 4% of shares in unit sales. What makes them the reigning champions? Apple routinely engages customers with innovative campaigns and delights them with top-of-the-line products.
4. You'll Offset Negative Word of Mouth
You've probably heard that unhappy customers are more likely to spread the word about their experience than happy customers. Unfortunately, bad reviews and unsatisfied customers can happen to the best of us.
While you should do your best to avoid opportunities for negative word of mouth, you can offset the unavoidable with positive customer experiences. Satisfied customers are much easier to convert into repeat buyers. Inbound marketing can do just that with a logical, customer-centric approach.
The heart of delighting customers lies in good manners and quality inbound marketing. For a marketing approach that would make Miss Manners proud, try a little Southern hospitality.