5 Characteristics of the Best Landing Pages
Typically, a landing page includes a headline, images, text and a form that converts interest into sales leads or customers. Since the landing page works non-stop, it has become one of the best "salespeople" you can find today. To help you with this, the following paragraphs reveal the top five characteristics of the best landing pages.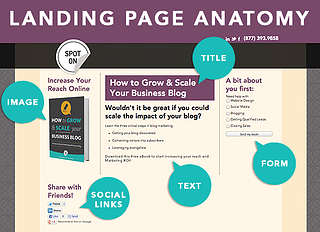 Headline, Sales Copy and Call-to-Action: These three elements are crucial for a landing page. First of all, a strong and compelling headline that complements your sales copy can help AdWords scores (seo efforts) and convince visitors to choose your products instead of the alternatives proposed by your competitors. On the other side, effective sales copy starts by presenting specific issues that your visitors may experience, continues by explaining why your product is the best solution to those problems and ends by making a compelling offer that visitors can't refuse. Additionally, your sales copy must include an appropriate call-to-action that can help you get great business results. For instance, using "Download Now for Free" can help you get more sales than a call-to-action similar to "Try this Product Now".
Landing Page Design: Besides a clear and appropriate headline, sales copy and call-to-action, landing pages must include relevant product photos and landing page templates that sustain good eye flow and offer visitors an immersive visual experience. A new web design trend advises webmasters to use primary images that bind the entire layout together, expanding across background, behind the text and form.
Exploratory Interfaces: The best landing pages feature exploratory interfaces that include a variety of interactive features that encourage visitors to click on particular elements. Some components that create great exploratory interfaces are videos that visitors can watch, layouts with multiple tabs that explain product features and lightboxes that let users zoom in on product photos. If you're looking for more sophisticated interactivity, you can combine different functions to create new icons, layers and pages. These ensure a truly engaging experience that reveals your offers in a surprising and convenient way.
Social Media: "Follows" and "Likes" are micro-conversion social media elements appropriate for the visitors who aren't ready to follow the primary call-to-action. Since these elements allow users to stay on your landing page and continue to the primary call-to-action when they're ready, most visitors who join your social network will eventually access the primary call-to-action. Today, you can track the contribution of these two elements by opting for specific Web analytics packages, such as Adobe SiteCatalyst and Google Analytics.
Mobile Accessibility: An increasing number of people are using their mobile devices to connect to the Internet and access landing pages. To accommodate as many visitors as possible, avoid Flash elements and other interactive features that can't be accessed through mobile applications. Instead, use JavaScript, CSS and HTM code, which work fine on tablets and Smartphones. But, since these alternatives impose specific constraints that prevent mobile and desktop users to enjoy the same spectacular experiences, the best solution is to implement a "user agent" identifier and create a separate landing page for mobile visitors. By simply using two different landing pages, you can tailor a wonderful experience for all users.
If you're about to launch a new product or service, the aforementioned characteristics can help you create the best landing pages that will convert curious readers to sales leads and even repeat customers.
For more help, you might enjoy these articles: