5 Steps for Creating a Content Development Strategy for EdTech Companies
In an ideal world, EdTech would sell itself. You've worked hard to develop a product designed to help teachers and administrators do their best work. Everyone wants to help kids learn, so what more does anyone need to know?
A lot, actually. It's one thing to create innovative hardware, software, and services for educators; it's quite another to meet those educators where they are to show them exactly how your product can change their lives.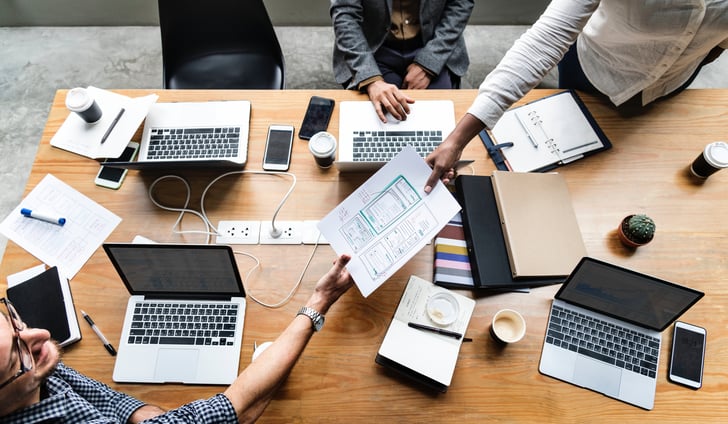 This is where an effective content marketing strategy can make or break your business. Some numbers to consider:
Almost 50% of people age 18-49 get their news and information on the web. Simply put, it's where you need to be to reach your audience.
A company with a blog gets 126% more lead growth over a company without a blog.
Content marketing leads to six times the number of conversions than other marketing methods.
Not all content strategies are created equal, though. It's not as simple as tweeting about your product or publishing blog posts that just look like an advertisement. Thoughtful content strategy will target your audience on the right platforms by helping them solve specific problems—preferably with your product, but definitely with your expertise in the field.
Here's how to get started.
Step 1: Define Your Goals
Before anything else, it's important to decide what you want your content plan to accomplish. Are you hoping to build awareness of your brand? Rank at the top of Google searches? Build leads that end in sales?
Knowing your main goal will help you zero in on your overall marketing strategy. Improving your Google ranking is very different than connecting with principals in their inboxes or with teachers on Twitter, so consider your overall business plan first, then develop a content strategy that will meet your needs.
Step 2: Reach Your Target Audience
Who are you reaching out to: teachers, administrators or students? Defining your audience will allow you to create content that is aimed toward your ideal reader—and eventual buyer. Creating buyer personas that embody the "type" of person you hope to target is a great way to get started. When you have the image of this person fully developed, it's much easier to choose the words and images that will appeal to them as you craft your content.
Next, you'll need to determine the best places to reach that audience. While administrators may love LinkedIn, teachers might be easier to reach on Twitter, Pinterest or specialty platforms dedicated to teaching and learning. If you're looking to reach students, their ages and interests will help guide your decision.
Step 3: Perform a Content Audit
Once you start creating blog posts and other content that targets your buyer personas, it's crucial to analyze its success. To do this, you'll need to audit your content. This process includes:
Taking an inventory of all your content. You should know what it's called, what it's about, and where to find it.
Optimizing for SEO. Does your content use key search terms, meta descriptions and image tags so users can find it?
Solidifying your voice. Make sure each piece of content "sounds" like your company and portrays your brand consistently.
Reviewing analytics. Knowing which pieces of content perform well—and which ones don't—will help guide your strategy for the future. Use Google analytics to track views, engagement and more.
Step 4: Utilize a Content Management System (CMS)
Once you publish content, you need to get the word out about your new piece. A strong CMS will allow you to schedule publishing dates and social media posts. Planning all your posts ahead of time allows you to deal with your editorial calendar in an organized way, when it's convenient for you. It's also easier to make sure your brand voice is on point when you craft your social posts right along with your pieces of new content.
Step 5: Choose Your Content Adventure
Finally, don't forget to explore your content options to find the pieces your audience really responds to. Blog posts aren't the only possibility, though they're an excellent tent-pole for most content marketing campaigns. You should also consider:
eBooks: Repackage your best blog posts into a comprehensive guide that you give away in exchange for contact information.
Case Studies: Show how your product solved a problem for a happy client, and you could get some cross-promotional exposure if they publish it, too.
Infographics: Great graphic design can get a lot of statistical information to go down easy and show off your knowledge.
Videos and Podcasts: Who says your audience needs to read your content? Consider audio and video content that lets people connect with you on the road.
Feeling a little overwhelmed? Don't worry. We can help you develop a winning content strategy for your EdTech product. Reach out to the Spot On team today to get started. Whether you need help with the big picture or the finer points, we're ready with the answers you need.