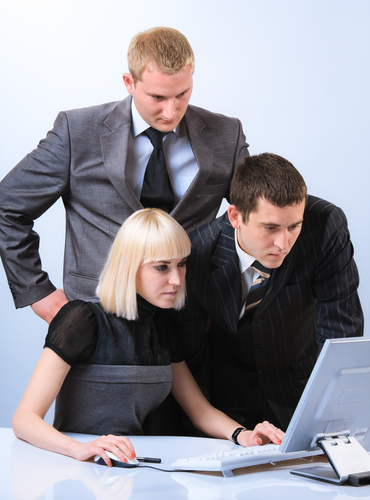 For qualified lead generation download our free marketing persona worksheet. Use the answers to these questions to help you generate all of your online content.
Web marketing is constantly evolving (there isn't even concensus on what to call it) – and whether you're targeting a neighborhood customer base or have your eye on a big audience, your website must contain the elements that help people personally engage with your business in order to convert from visitors into qualified leads. Without them it is no better than passing out flyers in terms of meeting sales goals.
How Qualified Lead Generation Works
Speak Directly to Them - As Individuals! This one is the piece that is most often missing from an online marketing effort. More than just identifying a target demographic and speaking to it in general terms with your offers, you must go much deeper and identify marketing personas and build content specifically for every one of them.
How do you refine your content to answer individual needs? When putting up online content most businesses tend to aim for the "here it is, now buy it" approach. To become buyers, people need a path to follow. Help them gather information about the posibilities for solving the problem your product solves, ways for them to sample or try out what you offer and finally a path to get it. Be sure to include ALL possibilities and not just the self-serving ones. Speak in their language, in exact terms for how they might use your product or service. Because this is a labor intensive task that really challenges entire organizations to be imaginative and think more broadly than the immediate sales goals it often gets shoved to the side in favor of action steps. Start by taking the time to identify every persona, every problem your product or service can solve for them and address them each, one at a time, with your online content.
A sense of who you are. People may arrive to your website via Google search, Facebook page or email link. Once they get there, they should have no doubt about where they are and what to do next. Sound like a no-brainer? You'd be surprised how many B2Cs focus more on making an "artistic statement" than making a strong, clear and instant customer connection. B2Bs commit this error more often since people tend to think their sales team will do most of the heavy lifting and the website is viewed as a piece of sales literature or general branding piece.
How do you create relevancy? Your consumer-focused blogs, videos, newsletters, graphics give prospective consumers an impression of your business. The foundation of inbound marketing, high-quality content – designed to engage, inform and entertain, not to "sell" – builds credibility and encourages visitors to become qualified leads. Best of all, your content is designed to be easily shared via social media and web pages, all of which help your page rankings in a Google search.
Easy navigation. In 2011, a survey published by HubSpot revealed that by a vast majority, consumers considered ease of use the most important factor in a website's design. And in the three years since that survey, there has been an explosion in use of mobile devices – which makes ease of use that much more meaningful. Whether your site is mobile friendly is now a search engine ranking factor!
How do you deliver easy navigation? Test and test again! Before you launch a website redesign, invite current customers and other volunteers to try out a sneak peek in the form of a "wireframe." It doesn't have to be pretty and finished, but this basic blueprint of your site should contain examples of your key navigation points, including the calls-to-action and the purchase process. Conduct the testing via an online meeting where you can share screens and watch the testers go through your site-in-progress. Ask them questions as they navigate: What do you think will happen when you click this button? Where on this page would you go to find our Facebook link? Offer your testers a token of your appreciation – a gift card, or a round of golf – for participating.
Responsible data usage. At the middle point of the sales funnel, you'll use call-to-action phrases and well-designed landing pages to ask visitors to provide customer data that you will use in the lead-generation process. A lead-gen form might ask for contact info, personal data such as age ranges, income ranges and "when do you plan to purchase"-type questions. It's takes a leap of faith for visitors to leave such information.
How do you assure them of responsible data usage? Make it clear from the start that any information they provide stays confidential and will never be used for third-party lists. Tie the lead-gen form into some high-value content or offer that ties into the target audience's particular needs: a free consultation, a new-customer discount, even an entry into a grand-prize drawing (note that any contest must be "no purchase necessary).
Plenty of contact information. No B2C site, especially one targeted to local audiences, can afford to overlook contact information. Not only do consumers need this, but also Google – the more relevant content on your website pages, the better able search engines are to match your content to a person in need of your service. Forget about keyword ranking...it's about connecting to people one on one these days.
How you can attract customers? Offer a variety of ways to contact you – phone, email, street address and even online chat is you're aiming at a large consumer audience. Help should easily available on every page of your website. Add photo, maps and videos to help Google index you correctly.
Don't neglect the first step in qualified lead generation. Before you change a single thing on your website, blog or social media channel, make sure it is appealing to your unique marketing personas.
Get started with our free worksheet, use it to identify your marketing personas: