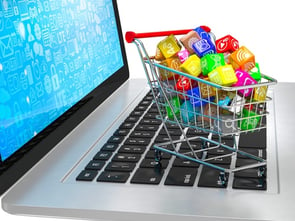 In the beginning, apps were so cool! So exciting! So hip! Now they're old news, making software marketing a wee bit trickier. While apps make life – and access to your website, products, services, et cetera – more convenient, there are well over a million to choose from.
How can you make yours count? More importantly, from an inbound marketing standpoint, how can you get your app to sell itself?
When Software Marketing is Done Right, Apps Sell Themselves
Apps aren't cheap to create, but they can be very cheap to market if you do it right. So cheap, in fact, that they sell themselves using simple, free inbound marketing strategies.
For example:
MAKE A VIDEO
People love videos. They are more engaging and interactive than text. Videos consistently boast high click-through rates, and more than half of marketing professionals claim videos have the highest marketing content ROI. Another bonus? It takes too many words to explain how to use your app, or why people should use it. A video can do all of that in a matter of seconds, with as many or as few words as you like. When you combine video, text, and voiceovers, you gain a marketing and teaching tool that reaches a much wider audience than any of those three on their own.


WRITE AN SEO-FRIENDLY DESCRIPTION
There are a couple places where the app will have to use text-only techniques to sell itself, and those are the App Store, Google Play, and other app selling forums. There it's imperative that the description be crisp, compelling, and clear. It should be optimized the same way the rest of your web content is – with the right SEO words and phrases, written in your brand's voice, and with full disclosure if there are required permissions. This ensures that users know right up front, avoiding having them feeling like they're tricked when they go to download or install it on their device. If your budget can handle it, translate the app's description into relevant, common languages – and don't rely on Google Translate, since it will be obvious to native speakers of a language that you took a shortcut.



ENCOURAGE USER REVIEWS


Once you have a decent user base, encourage people to give you reviews. Reviews in the App Store, Google Play, and other online forums can make a big difference. Not only do they increase prospects' confidence in the app, but they can also increase Google's confidence in you, which boosts SERP and app-ranking results.



BE MEDIA SAVVY


Now's the time to brush off that copy of "Press Releases For Dummies." Information released via PRWeb or MarketWired have higher reader rates and are also considered more credible if a web searcher lands on one of those sources during their search. Another smart option is to get the word out via AppShout, whose followers are always looking for the next best app. AppShout uses segmented releases, which increases click-through rates, thereby increasing your app's exposure. Also, reach out to medium-sized bloggers in your niche and/or the app world to see if they'll help spread the word for you.



WATCH, LISTEN, AND LEARN


Your app's users are telling you all kinds of information via the actions they take and don't take. The combination of healthy active device numbers, continuous downloads, and an addiction to app analytics will allow your team to tweak and evolve the app in a way that reflects how users are interacting and responding to their app experience. That way, the changes you make are much more likely to provide the response you desire.
You've invested time and money into a killer app. Now it's time to optimize software marketing skills so that self-fulfilling download stats exceed your wildest expectations.