With inbound marketing, your small business competes alongside the top names in your industry.
The remarkable content you provide have ideally helped B2B visitors identify your business as credible and trustworthy. They are comfortable following the call-to-action to visit your site.
Now your landing page and homepage have a big job to do – assure visitors they've come to the right place, and give them the added confidence to offer you information that contributes to effective lead generation and qualification.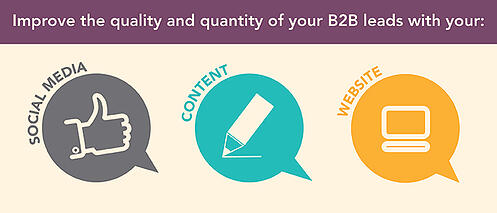 Six confidence-building ways to generate leads
Create customer-focused content
The best blogs, videos, interviews and whitepapers are not meant to be forums for a sales pitch, new-product announcement or anything that might be more suited to a press release. Ideal content is not about you. It's about your customers – their interests, concerns and pain points. When you offer advice, industry insight, or even a new and entertaining point of view, you build credibility in your company and foster trust.
Demonstrate your authenticity
Less-than-credible online businesses abound, so visitors may hesitate to trust their contact information to a website that lacks authenticity. Reassure your visitors by displaying accessible links to the kind of data that characterizes a trustworthy enterprise: an About Us, Terms of Service, guarantee, privacy policy statement and up-to-date copyright.
Would you ever say no to a prospective customer giving you a phone call? Yet many digitally oriented businesses provide only email as their contact information. Always include a contact phone number (staffed by an actual human, not a voicemail box) to provide an additional channel for visitors who might not be online.
If your business has garnered great customer testimonials, reviews and rankings, then you have a chance to build credibility in ways that ad slogans can't match. Just be sure to screen your third-party sources to ensure that they're as trustworthy as your own company is.
Use (but don't abuse) video
According to an Invodo survey, 52 percent of shoppers were more confident making a purchase decision after seeing a video. Build rapport with a short video – a product demonstration, how-to or customer testimonial – tied to your homepage or social media page. All videos should include stop/pause/mute functions and be closed-captioning for accessibility.
Your call to action (CTA) is not limited just your homepage, landing page or content. Create a persistent spot for the CTA for each site subpage, so that no matter where a visitor lands, he has a chance to take the next step toward effective lead generation. Regular A/B testing will help you discover the CTA offer, wording and placement that get the best result.
Effective lead generation drives the sales process forward
Your content, social media and website work together to improve the quality and quantity of your B2B leads. When you optimize your digital assets to build visitor confidence, you'll encourage more leads – and enjoy more conversions.