LinkedIn is a B2B gold mine. Many Fortune 500 decision-makers spend their spare time hanging out on LinkedIn along with 610 million other users. It's a platform focused on building networks and connections.
In fact, over 260 million professionals log in to LinkedIn on a monthly basis because they know how valuable of a tool it can be. And LinkedIn is just as valuable for business owners.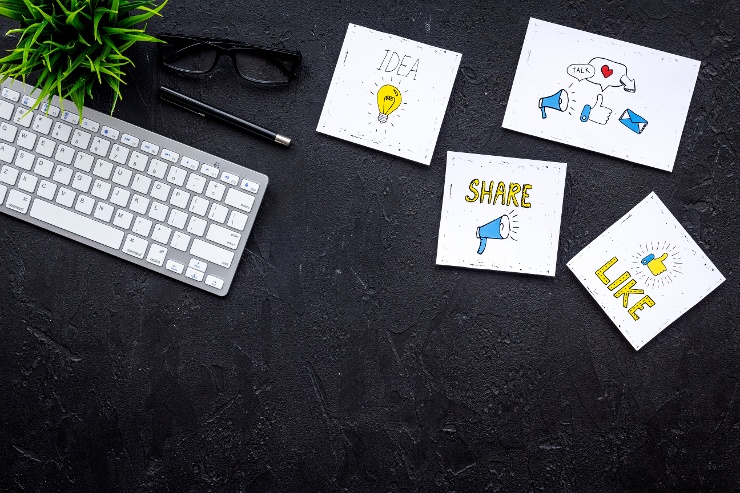 LinkedIn gives your business the ability and the power to tap into your network of existing connections and grow your brand through quality content and word of mouth. The key is to establish a marketing strategy that takes your LinkedIn game to the next level. Here's how you can get started.
1. Get on LinkedIn Personally
If you're not on LinkedIn yourself, that's the very first thing you need to do. You can't do anything else on LinkedIn without first setting up your own personal profile.
To be effective, your profile should be carefully crafted to include current versions of your bio, your CV/resume, a quality headshot, a list of skills, keywords, and more. Think about your LinkedIn profile content in the same way you would think about the content you create for a job interview. It should be professional, compelling, customized to your business, and succinct. Keep in mind these rules:
Write in the first person: You're having a conversation between you and your reader. Make it personal by using first-person.
Include personal information: A solid rule of thumb is to fill out your LinkedIn profile with about 70-80% professional information and 20-30% personal.
Be selective: Don't include every detail of every job you've ever had. Instead of diluting your brand message, stay on topic to make the point you want.
It's through your personal page that you'll be able to create your company page (see next step) and reach out to contacts. Your personal page is also how you can make more personal connections for your business by publishing content, garnering followers, messaging your network, experimenting with videos and photos, and more.
Just take a look at the fact that HootSuite CEO Ryan Holmes has a larger following—1.3 million people—than HootSuite's LinkedIn company page—190,000 followers.
2. Set Up a Company Page
Setting up a company page is the first and most basic step you need to take to use LinkedIn like a rock star. A company page is basically your homepage on LinkedIn. It's where you introduce your business to potential customers and share about your brand, products, services, job opportunities, culture, and more. Simply having a complete company page can double your visitors.
To set up your page, head to the LinkedIn Marketing Solutions portal and click "Create a Company Page." From there, it's just about filling in the right info. You'll need a cover image (1536 x 768 pixels) and logo (300 x 300 pixels) that look sharp. You'll also need an interesting, 2,000-character company description that uses keywords and tags to talk about your company. Be sure to represent your company strengths well. Finally, you'll want to add in the company details such as industry, company size, company type, and so on.
Once you get those basics done, it's all about optimizing your company page. To do that:
3. Encourage Your Employees to Connect
Just as it's important for you to have your own personal profile on LinkedIn, it's also important for the rest of your company employees. Employees typically have 10 times more first-degree connections than a company has followers, so an employee advocacy program to get your employees on LinkedIn is key.
Once you get your employees on LinkedIn, you want them to connect to your company on a regular basis. By positioning your employees as brand advocates, they become the vehicle by which your brand is seen. Here are a few ideas to make this happen:
Ask your employees to follow your company page and put your company as their current place of employment.
Use LinkedIn Elevate to identify the most active employees on LinkedIn and then create a plan to help them engage with your company online.
Make engaging with LinkedIn content a competition between employees with prizes awarded to the most active users.
4. Share Regular Content
The goal is to publish content that your target audience finds interesting enough to engage with. You're looking for clicks, shares, and comments on your content, which means sharing content that isn't "salesy" but instead helps people perform their jobs better, answers questions, addresses pain points, or teaches something new.
Keep in mind that the ideal post length is 50 - 100 characters, features an article with images, links to long-form content (1700-2100 words in length), and provides value. Think about sharing company blogs, industry news and research, in-depth how-to posts, quick tips, photo updates, and company news.
And remember to pay attention to both quantity and quality. You'll want to share content weekly and make sure it packs a punch.
5. Use Sponsored Ads
Just like on Facebook, LinkedIn offers advertising opportunities for businesses. Sponsored ads cost money but are an effective way to reach a wider audience with your content. Better yet, you can target your ads geographically, by age, profession, industry, and more. They're as customizable as you need. Just be sure to launch your ad campaign around a product, service, or offer that would best interest your audience.
6. Send InMail
Unlike regular email, LinkedIn InMail can be way more effective at reaching decision makers. According to SaaS company Replicon, using InMail can get you an 11x better response rate compared to email. At the minimum, people are three times more likely to respond to a LinkedIn message.
To use InMail, you'll need to sign up as a Premium or Sales Navigator user, providing you with either 3 (Career) or 30 (Recruiter Lite) InMail credits per month. From there, you'll just need to find the profile of the people you want to contact and message them. Your message should be short, to the point, conversational, and explain exactly why you're reaching out and what you hope to gain by the communication.
7. Engage with Your Network
Finally, similar to other social media networks, LinkedIn is all about engaging with your connections. Don't let your relationships fall by the wayside. Instead, nurture your connections by participating in discussions, answering questions, liking and commenting on content within your industry and newsfeed, and following influencers.
Use the advanced search feature to find the best companies, employees, and contacts within your industry. You can search by keywords, geography, company name, industry, relationship, language, company size, seniority, and more. The key is to develop a solid network and then to encourage engagement with that network regularly.
If your business isn't using LinkedIn to connect and engage with your target audience, you're missing out on many effective marketing opportunities. Contact Spot On today if you want to learn how we can assist with your company's LinkedIn marketing strategy.