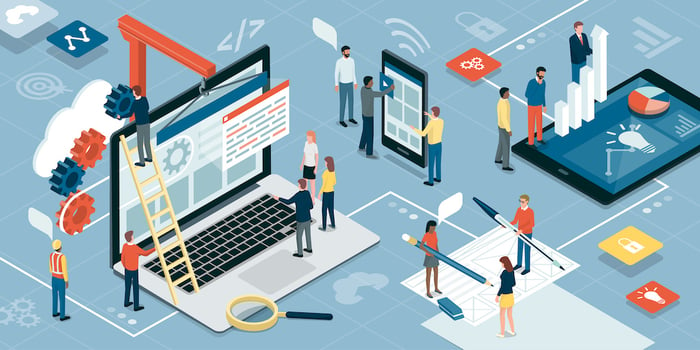 You are a healthcare-focused SaaS company. By nature, you are obsessed with efficiency, data, and automation. Content marketing may be the last thing you want to see on the budget. But, then again, content marketing brings in 3X as many leads as traditional marketing and costs 62% less, according to HubSpot. Some of your peers shy away from the delayed gratification and perceived lack of control in favor of old-school, outbound approaches. But this is not an old-school field is it? You need to speak to audiences as an insider, a resource, and a friend to gain advantage where competitors may make wild claims and offer inferior products.
Download our ultimate guide on developing and implementing your SaaS healthcare marketing strategy.
You have to explain yourself to win business. A SaaS content marketing agency can take away the staffing and planning headaches inherent in conceiving and executing a marketing plan for a SaaS company, a plan that builds credibility and business. But they can also waste your money and time. Here are 7 things you should expect from your content agency.
1. Demonstrate Success in Your Industry or Those Closely Related
The more specialized an industry, the more critical actual experience is. The audience is not everyday consumers, it is advanced business professionals with high technical standards for content. They have nuanced pain points. If you can't speak their language, they will perceive the content to be useless. This language includes familiarity with HIPAA, virtual healthcare, electronic records, workflow and staffing norms, patient experience concerns, regulations, and ASC or hospital infrastructure.
What drives the purchase journey of healthcare SaaS products? Which types of content do they gravitate towards? How long should a content campaign last? Which content does it make sense to promote?
If an agency has testimonials and case studies from the healthcare industry, you can bet they will have answers to these questions, and have earned them the hard way, the only way. Remember, you are asking an agency to speak credibly from the software and healthcare perspectives. It is risky to let them learn this massive industry on your watch.
2. Define a Big Picture Approach to Digital Content Marketing
A credible SaaS content marketing agency is deliberative about its approach to content marketing in general. Content offers value in exchange for attention. Good content is authentically helpful and rather transparent about its motive simultaneously.
Marketing expert Neil Patel notes, "If you're going to provide value to customers, you need to mostly write content for the customers' benefit and occasionally promoting your products. People are interested in articles and posts that benefit them, not ad posts touting how awesome your product or business is." In other words, follow the 80-20 rule: Aim for 80% of your content to be educational, with only 20% that leans promotional.
A good place to start is with evergreen or cornerstone content: it doesn't go bad, and it appeals to almost every target audience member as a resource. These resources may take the form of white papers or be categorized as references that live on your website in their own section. Cornerstone content can be repurposed or integrated into future pieces to add substance and increase backlinks.
You probably know how costly inefficiencies in hospitals can be. Content marketing needs to follow a consistent process as well. What steps happen en route to creating content? Your SaaS content marketing agency should have a reliable process for content calendars, drafting, editing and approval, posting, reviewing, etc.
3. Assess Your Brand's Current vs. Desired Relationship to Audiences
Spinning out content that does not serve the audience will only waste money and time. A healthcare marketing agency will ask questions and account for buyer personae to make decisions about how to approach content. These questions should include some of the following:
Your understanding of the audience's needs
Your sales funnel or buyer's journey
Current CRM and marketing tools
Timeline for content goals
Level of investment
Next steps could include analyzing your buyer personas vs. data collected from customers and (if you have been creating content) a full content audit.
Your agency should be asking for all types of collateral, case studies, and other useful information to lay a groundwork for a marketing plan for a SaaS company.
4. Explain Content Types and The Mix of Uses
Did you know that 90% of customers expect a cohesive brand experience? That means you need an agency that can determine which channel serves which message best. Content creators can convey a consistent tone across media. Make sure they have experience with major tools of the trade:
Blogs
Podcasts
White Papers and Guides
Infographics
YouTube videos
Cross-promotional posts
Each stage of the buyer's journey will be represented in the content. A content team is able to extract value from the volume and diversity of content. Content does not live totally apart from sales messages. Pitches need to be strategically situated for curious consumers.
5. Demonstrate SEO and Keyword Insights and Their Uses
Nothing is static in the world of content marketing and search engine rankings. Did you know that the average blog post increased from around 800 to around 1100 words between 2014 and 2017? The utility of SEO is far more than a parlor trick. It must be placed in a context of creating audience-centered, well-researched content. We use keywords because they are evidence of what is important to our audiences; long-tail keywords especially help us tailor content to their needs at different points in the buyer's journey.
Over time, authentic use of keywords will build your domain authority and appearance in search results. Keywords are multifaceted tools for long-term improvement, not quick fixes. Make sure your SaaS content marketing agency can discuss the process for discovering and refining primary and secondary keywords over time.
6. Set Realistic Expectations
If an agency guarantees large sales increases, dig deeper. For one thing, make sure they will be on the hook to answer for those numbers if they fall short. It is important for a digital content agency to set realistic expectations based on long-term goals. Content creation and inbound marketing generates momentum over time. It may make your sales copy work better by presenting more informed prospects. It may also increase your credibility in the marketplace. Customers who read more become more likely to trust you, and new customers will be more likely to learn from your content first. To do it well requires a commitment on your part to provide resources and oversight and to agree up front on what outcomes will determine success. Metrics should measure the content's effects where they can be assured: within a few months of partnership, you should be able to see measurable results on key marketing metrics, including web visitors, marketing-qualified leads, lead quality, sales calls, or lead conversions.
7. Follow Through
It's easy enough for some to collect their checks for a strategy, do a simple run of cornerstone pieces, and leave you adrift, but an excellent SaaS content marketing agency builds in expectations of what might happen and how you might respond in future content directions. If you are getting lots of short hits and less click throughs, your content may not really match your brand closely enough. If the readers tend to finish articles and linger on the site, but don't convert, it could mean you need to cultivate a more thorough strategy that leads them more carefully through the sales funnel. It could also mean that content promotion may be necessary to get some momentum as a thought leader. Industry trends will inevitably affect which channels work best for your audience in the future.
If a healthcare marketing agency does all of these things, it is evidence that you can maintain a constructive relationship to achieve your goals. Content is a living part of your brand identity. If you want a partner you can trust at the helm with industry-specific experience, look no further: Prevounce Case Study. Connect with us here.