8 Things to Look for in a Healthcare Digital Marketing Agency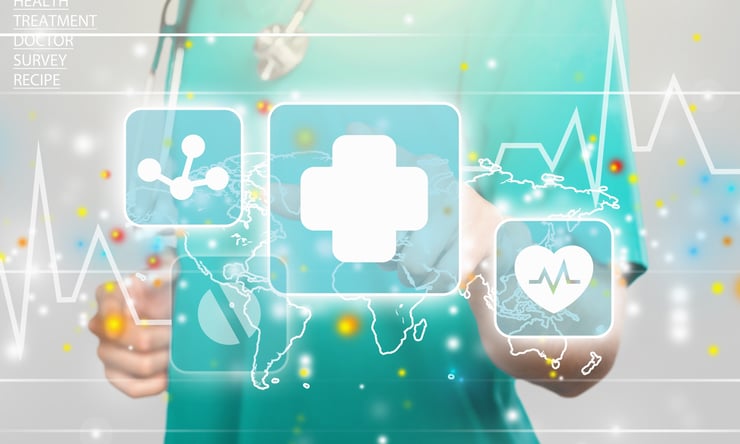 Choosing a digital marketing agency is never easy. Not only are there many agencies to choose from, the right agency for one company might not be a good fit for another. Healthcare software marketers should consider several areas to ensure they're making the right decision.
There are so many factors to consider, such as:
Do they have the expertise you need?
Can they help you build the right digital strategy to stand out from the crowd?
Will they understand your brand, your industry, your mission?
Do you click? Can you imagine working with them for the long-haul?
Will they be worth the money?
In this article, we'll look at some of the must-haves for companies in the healthcare industry that are looking for a digital marketing company. As you promote healthcare software, these are the fundamentals that you should look for before you choose a new digital marketing agency.
1. They need a thorough understanding of the healthcare industry
Marketing in the healthcare industry is uniquely challenging. While healthcare spending is on the rise, the market is crowded, buyers are conservative, purchase cycles are longer than most, and trust is hard-won.
A healthcare digital marketing agency will therefore need a thorough grasp of the problems facing healthcare vendors, and have a plan in place to overcome them. They should be able to demonstrate a knowledge of the key players in the industry, the technology developments that might affect your business, and a familiarity with what your competitors are doing to win market share. Testimonials and case studies from the healthcare industry would be worth looking out for, as would healthcare-focused blog content or articles proving market-specific thought leadership.
2. They need to act as a partner, not just a service provider
Overcoming the challenges presented by the healthcare industry requires a bit of extra marketing oomph. Therefore, you'll need to find a digital marketing agency ready to go the extra mile for your business. Ideally, you should feel that you've found a true partner, who can serve as an extension of your in-house marketing team, with a deep understanding for your unique product or service and an appreciation for your unique selling proposition (USP), buyer personas, existing brand position, and market opportunities.
3. They need to understand digital strategy
Succeeding in a crowded market like healthcare takes more than the latest marketing techniques. You must start with a solid plan in place - or you'll risk wasting time and money.
While some agencies specialize in a particular marketing area or technique - like SEO or social media - a healthcare digital marketing agency should be able to help you build a global marketing strategy that pulls all your disparate marketing activities into a cohesive plan.
The agency should start this process by working with you to build a deep understanding of your business, your challenges, your goals, and your customers, before putting together a solid action plan. You should sense that both you and your marketing agency are crystal-clear on what you are trying to achieve and how you're going to achieve it.
4. They need to understand the full digital marketing process, from end to end
Competing in healthcare will require a digital strategy that incorporates the full marketing mix, including both outbound and inbound marketing. HubSpot reports that B2B healthcare marketers rely heavily on outbound marketing, but also find it expensive - so we would recommend that you look for a solid healthcare digital marketing partner who can help you cover all the bases. You'll be looking for a team who can help you define your digital marketing strategy, then implement it across multiple channels.
They should be able to advise you on everything from SEO and keyword research, to web design and copy, to outbound digital advertising and PPC, through inbound content strategy, social media, user experience, and video marketing. Check their portfolio for a broad range of successfully delivered projects covering the full spectrum of digital marketing techniques.
5. They need to stay ahead of the trends
Digital marketing moves fast - marketing agencies in the healthcare field need to keep up with the latest evolutions of the market or risk becoming obsolete. When you're researching digital marketing agencies to help you build your healthcare brand, keep an eye out for teams with their finger on the market's pulse. Are they ready for the onslaught of big data from the Internet of Medical Things? Are they familiar with telemedicine and AI-driven medical technology? When you're hiring a digital agency, you should ideally be looking for a partner who's in it for the long-haul, so make sure you've found the right team for tomorrow's challenges, not just today's.
6. They need to prove authority
Trust is at a premium in the healthcare industry. Building trust online involves establishing a reputation as an authority - so for healthcare software companies, the right digital marketing agency will know how to build an exceptional online reputation. Look for agencies with industry awards, glowing testimonials from known brands, strong performance on organic search or high-quality content in industry publications.
7. They need to set you up for success
A digital marketing agency should not only be able to help you get started with your marketing efforts. The best agencies will also provide you with the training, skillset, and tools you'll need for long-term success. Perhaps they can steer you toward the right marketing automation solutions for your business, or suggest how you could get more out of your existing CRM tools. You should feel that you have a trusted advisor by your side for the long-term, not simply a service provider working on a one-off project or working separately from your marketing efforts.
8. They need to deliver a return on your investment
Last but not least, a healthcare digital marketing agency must be able to demonstrate results. While some aspects of marketing may take more time than others to show up on the bottom-line (content marketing, for instance, may take up to 12 months to translate into sales), you should feel confident that your investment is delivering tangible improvements to your online presence.
Over the course of a few months, you should see significant boosts in critical marketing KPIs, such as web visitors, number of leads, lead quality, lead velocity, number of sales calls or leads conversions.
If you're looking for a digital marketing agency with valuable experience partnering with healthcare software companies, we would love to hear from you. To learn more about Spot On and how we can improve your company's marketing results, click here to set up a free 30-minute consultation call.