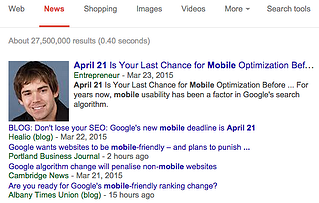 Google has announced, effective April 21, 2015, that they will actively punish websites that are not optimized for mobile devices by not displaying them in search results for people using these devices.
This is a hefty statement since more and more often people are using phones, tablets, and now their watches (wearable devices) to access and search the Web. The image with this blog post is a screenshot of Google's own search engine results page for "news" on the term "April 21 Mobile". Historically Google hasn't announced these types of changes. Instead, businesses can go blissfully unaware of what they're losing if they don't have someone tech savvy whose job it is to watch out for these things.
If you need more confirmation than this, just hop on over to your Google Webmaster Tools account and see if you've received a notification. (If you haven't, it doesn't necessarily mean you're in the clear, it may just mean they haven't gotten to you yet.) I've already received notifications for client websites that we have in development now. Fortunately, the redesign process will make these sites responsive as part of moving over to the HubSpot COS (content optimization system). Google recommends responsive design rather than a separate mobile website to give people the best experience from their mobile devices (you can find those recommendations in Google's Webmaster Tools as well. If you don't already have one, go ahead and set up your account, they're free).
How to make sure your website is in search results on mobile devices
Find out if your website is "responsive" - meaning it displays differently depending on which device someone is using when they view it. To do this you can use Google's tool for checking things out or simply view your own website from various devices. Does it function in a user friendly way or is it just a teeny tiny version of the desktop version? In other words, it requires a lot of scrolling around the screen and the need to enlarge the screen to click buttons and navigate through it. Sadly, it may not work at all, some websites won't display certain content on mobile devices.

After a few minutes of testing your website on your own devices, you'll soon understand why Google is taking this drastic step. It is very frustrating to waste time looking for things on a website that isn't equipped to deliver them in a friendly way to someone using a smartphone, perhaps sitting at the airport or in their car trying to quickly get information.
If your website doesn't pass muster, IMMEDIATELY start shopping around for an upgrade to your current website design.
Beware of low-cost, free website platforms and tools. Yes, you can succeed quite well with a website built on a wide variety of different platforms like WordPress or custom coded by someone. The devil is truly in the details though since there are countless bits of minutiae that go into building a website. Website developers that have remained current on every aspect will cost more than those that haven't since those developers can focus more on volume. They churn out many websites that are low par on the coding and standards side (what's worse, the developers themselves may not even realize this since they haven't had time to research and learn of changes).

When the tools and outlets are low cost, the only way they can effectively deliver business results is in the hands of someone who has the time and talent to customize them to deliver intended results. Let's use a comparison of an unfinished house. How would it go if all you bought is a home that looks attractive - has drywall, paint, windows and doors but no plumbing, heating or electrical systems. It's still shelter, has some functionality and anyone stopping by for a visit might not notice what's missing. Upon further inspection, however, they probably won't be so excited to be your house guest again, right? Website design can be viewed the same way, the website might look fantastic and seem to function the way you intend it to but some of the underlying necessities aren't there or aren't up to date or functioning like they should and so your "guests", that is website visitors, don't have a good experience or perhaps can't even find your website in search results.
If all of this sounds complicated and causes you to want to stick your head in the sand and just ignore it, you're not alone. It's why we see so many websites that look so vastly outdated. A lot of people are in the same boat and it's just easier to ignore it until something happens to make that impossible to do. April 21st, 2015 might mark such an occasion since we're not just talking about cell phone use here but also tablets and reading devices. Can you afford for your website not to show up in the search results for people using these tools?