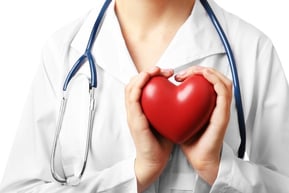 Is your healthcare practice like a regular Johnny-on-the-Spot, happily finding and fixing anything that isn't in compliance? Or, are you more like ostriches, "pretty sure" things are up-to-par and dreading when you'll have to raise those heads from the sand to put your beaks - or noses - to the grindstone in time to meet upcoming compliance deadlines?
In either scenario, we have some pretty awesome news for you; compliance with meaningful use standards is one of your greatest healthcare marketing assets.
Niche Knowledge Makes For Hard Core Healthcare Marketing Fodder
Whether you've already done your homework, or are in the process of training a compliance officer in an effort to assess, upgrade and generally mind your Ps and Qs, the information you learn about your practice via internal monitoring and audits is like a pot of gold, full of gleaming tidbits you might have suspected but never really knew:
Perhaps you treat a larger-than-average number of patients with diabetes.

Maybe your attention to geriatric care is so amazing that you've developed an unintentional niche.

There's a chance an undiscovered practice niche has provided you with an unrivaled network of specialists to whom you refer your patients.

You may even discover that your office really rocks when it comes to a particular treatment(s) or specialized diagnoses.
These are just a mere hint of the gems you can and will uncover about your practice and its strengths, all of which you can use to your marketing advantage, via engaging and compelling content creation.
Unleash the Niche
One of the most important elements you'll uncover while culling through all that data are the niches your office serves. Some of these you probably knew about, or suspected, but what have you done with that information? Others may come as a surprise or serve as an "A-ha Moment." Once those current and latent niches are reinforced or revealed, unleash them in the form of Marketing Personas.
Get To the Questions of Your Marketing Personas
If you've done this before, it'll be pretty simple to do it again. If you haven't developed specific buyer personas before, then this work will be transformative for how your healthcare practice handles Who it addresses when you create content. Questions to ask include:
What are the patient's cares, concerns and (maybe even?) fears?

What inspires her?

Does she prefer a more professional tone? Or does she like things simple, digestible and with a sense of humor (the latter tends to be more successful than the former - even in healthcare marketing...)

Who's looking for lifestyle change-oriented solutions, and who's a hardcore treatment seeker?
Answers to these and other questions will get to the heart of Who these marketing personas are. Then, it's time to play proverbial "dress-up," creating concrete sketches/images/caricatures so you can speak to them - and converse with them - in a more connected way.
The more personable, targeted and intuitive you can make that voice, the more you will attract the right prospective patients and keep current niche(s) hungry for more content.
Exploit Those Factoids
What surprising, interesting and/or relevant factoids turned up during all those audits and reviews? Did you learn that more of your patients responded to Medication X than Medication Y? Have you had success with lifestyle changes like diet or stress reduction techniques? Any and all of the interesting information you uncover should be used to create engaging content.
Isn't that spectacular? The fruits of your hard-earned compliance labors will yield nuggets of healthcare marketing inspiration for blogs, website content, offers, social media postings and more. As they say, "one good thing always leads to another..."