Poodle skirts, men with short bangs and long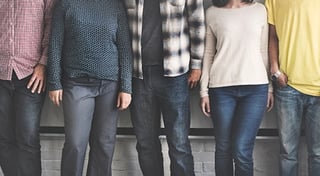 hair, tight, skinny jeans with holes in the
knees (oops! Never mind. That ones' trending again...) all are examples of trends that come and go, and then come back again. But imagine if marketers didn't keep buyer personas aligned with the times?
You'd be appealing to one need, interest or desire while prospects had already moved on or evolved. Or, on the flip side, it might be you who's changed, in which case current prospects might be different than the ones you've appealed to before.
This is why it's so important that your buyer personas are up-to-date. Your voice needs to align with just the right market, not the prospects of five or ten years ago.
So how to you know when to update buyer personas?
Signs It's Time to Update Buyer Personas
Here are signs it's time to update buyer personas:
Update Buyer Personas the Same Way You Created Them
Updating buyer personas isn't all that different than creating them in the first place. You also don't want to consider it a complete scratch-and-recreate because much of your original persona data is probably still relevant.
Consider the following:
Demographics. Odds are demographics haven't changed much, but they might have. If a new demographic is emerging or showing interest in your brand's products or services, it's time to create a persona for it.
Negative personas. We ideally create personas to sell things to buyers. Over time, however, data and analytics illuminate "negative buyer personas." These are the people who are quick to click-thru and even convert to seemingly qualified leads but then never have the budget or final drive to commit to a sale (time/energy suckers). When thinking about how to update buyer personas, don't neglect negative personas, personas you can't identify without an inbound marketing track record.
New technology or trends. Again, any new technology, innovations or general cultural/societal trends can lead to a shake down - or shake up - of new persona profiles - or the methods used to reach them. Cross-analyze existing data and you may find you have a new or amended persona in the works.
Updating personas is a valuable practice and should be done with some degree of regularity. When you do it well, you'll notice increase in qualified leads and successful conversions.