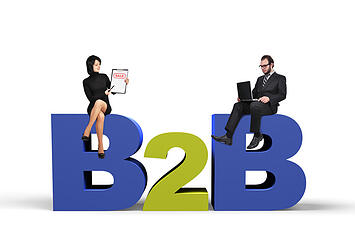 Download a step by step guide to help you build a b2b lead generation machine using your website!
Business to business marketing techniques are more important than ever in today's sluggish economy when companies are looking to succeed and thrive so that they can make sure that they keep the doors open and maintain a steady flow of revenue. The Internet is one of the most crucial areas for business to business (B2B) marketing so that companies can bring in customers, but it is important to understand the unique challenges of on the web and how to approach this task.
Why B2B Marketing Online Is Challenging
Marketing in a business to business context requires a deeper understanding of the industry that you are selling to. Your prospects are professionals that have busy schedules and numerous challenges throughout their day. They also have more access to information than ever before, meaning lead generation becomes crucial: statistics show that companies today do not contact suppliers until 57% of the purchasing process is complete. Marketing specialists need to be aware of all the various factors that impact the buying process and need to do something to show that they are aware of the unique situations that buyers face.
The Inbound Marketing Difference
The reason that inbound marketing can distinguish your business as a company that is successful and understands the challenges of the modern marketplace is because inbound marketing focuses more on how your organization can fit the needs of its clients. The specific focus of B2B marketing should be on content that is targeted around the needs of your prospects. This will help you show them that you have a nuanced understanding of their issues.
How Content Can Attract B2B Buyers
There are several ways that content you publish on the Internet can work for you to bring in buyers from businesses that are looking for your products or services:
Having a blog that shares content that matters in your prospects' industry: for example, if you are selling healthcare products, you should target your posts about matters that doctors and nurses care about.
Using social networks, especially LinkedIn and industry specific online communities, to reach out to people who are qualified to become leads and customers: an engaging social media share or poignant inquiry will help you make your followers on social networks think. These updates are a great way to bring people into your web site and make them more conscious of the things that you can offer them. Pointing to content on your site and elsewhere on the web that will help them solve a problem is the best strategy.
Incorporating industry professionals and experts into your content offferings: interviews and questions with important people in the industry that your prospects operate in will help you show that you are an authority and help you become a trusted resource. Start by asking prominent figures whose advice your marketing personas care about for an interview and use that to create a downloadable piece of content or guest blog post.
There are many things that you can do that will allow your company to succeed with business to business marketing. Since the advent of the Internet and the tremendous amount of information that it has brought with it, marketers need to be more savvy about the way that they attract prospects. Focus on your content and sharing it on the right channels and you will be well on your way to B2B success.