As marketers, we have to make decisions about how to accomplish several things in one campaign:
Give the best user experience

Delivering the right message in the right context

Meet marketing and sales goals
With HubSpot, we have a lot of tools at our fingertips to accomplish all of these; smart content is the biggest tool in the marketer's toolbox.
Why use it?
Smart content allows you to personalize the user experience far beyond just a simple personalization token ("Hi Joe!") in an email or on a landing page. It can be built around country, device type (desktop, tablet, smart phone), referral source, or a specific list membership or lifecycle stage. This flexibility allows you, for example, to deliver a different experience to a prospect than you would a customer.
Here's an example of how we put it to use for one of our clients, International Expeditions:
International Expeditions offers nature travel expeditions around the world. Their escorted tours deliver an award-winning experience in some of the most remarkable places in the world. One of their more popular trips right now, as you might expect, is for travel to Cuba.
IE currently offers three packages that allow a traveller to experience Cuba in unique ways:
Complete Cuba

Cuba Voyage

Cuba Arts and Culture
They have assets such as blog posts, webinars, and videos for each of these trips but being able to find these assets on their current site can be rather challenging. Our goal was to deliver the information that the visitor was most interested in and guide them through a funnel that would ultimately result in more bookings.
How we used it
Since these trips are three very distinctly different packages, we used the contact activity from visitors who had already booked to determine patterns – what pages they viewed, articles they read, etc. This information was utilized to build smart lists based on interests.
Then came the fun part…
Using a workflow to deliver the messages at the right time, we developed emails, CTAs, and landing pages that were all based on smart content. The emails contained it not only in the body of the email but also the photo that was shown in the sidebar as an example of what they would experience on their trip.
Here's how it looked
Additional emails in the workflow delivered resources such as blog articles, videos and webinars that were specific to the trips of interest. Each email also included smart CTAs that drove visitors to the landing pages with smart content.

These delivered an experience based on the trip they were interested in most.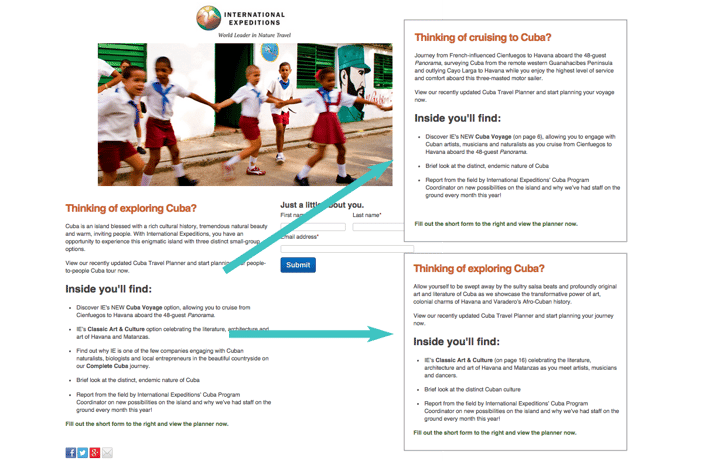 A few tips about workflows:
Have a "goal list". What do you ultimately want the person to "do" when they go through the workflow? Build a smart list around that activity that will remove someone from the workflow when they join that list. You don't want a prospect to continue receiving emails driving them toward a goal if they have already crossed the finish line. It's confusing and does not deliver a good user experience.
Have an "exclusion list". Are there prospects that shouldn't be a part of the workflow regardless of their list membership? This could be anyone from current customers, competitors, or opportunities depending on the goal of the workflow.
Note your settings. Do you want someone to be able to go through the workflow more than once? Does it matter if the activities are executed on weekdays or can you include weekends? Make sure you check these before you turn the workflow on.
Final Note: Don't be creepy
Smart content puts a tremendous amount of marketing power in your hands. Just remember the goal is to enhance your visitors' experience not to make them feel as though you're looking over their shoulder. Remember – just because you can, doesn't mean you should. Plan out not only the HOW you're going to use it, but the WHY. As long as those two things align with delighting your site user then it's okay to get started putting your plan into action.