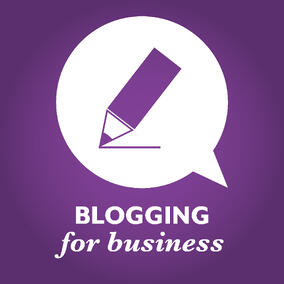 What would you rather see – engaging, informative facts or advice about something of interest to you, or a sales pitch from a company you never heard of?
Multiply your likely answer by the vast millions of web users, and you can see why blogging for business needs to be a vital part of your overall digital marketing strategy.
Today's consumers, clients and prospects no longer have patience with pop-ups; they largely ignore direct mail and Yellow Pages; and they fast-forward their way through TV commercials.
But they do search the Internet – in fact, half of all shoppers spend 75 percent of their time doing online research before they ever make a purchase decision. And what are they looking for?
Content!
The blogs you create (along with related videos, whitepapers, e-newsletters or infographics) serve a distinct purpose in the digital marketplace. They forego the sales pitch to offer something of more immediate value – targeted information that resonates with your target audience and gets you found online.
Blogs and other content are the foundation of inbound marketing, the proven tactic that helps you identify and communicate better. The goal is not to net millions of "hits," but to help the most likely customers and prospects find your website, and give them a reason to return.
Blogging for business: B2C
Shoppers use the Internet to find product or service details, reviews, prices, locations, rankings and much more. And you don't have many chances to engage them: if they discover your SEO-laden page is nothing more than an ad, you have probably seen the last of that prospect.
B2C blogs build your credibility without the sales pitch. The basics sound like an ad: an attention-getting headline, illustrations, a call to action at the end. But the foundation of a B2C blog is in the valuable information. From "top 10" lists to how-to directives, true-life stories and just plain entertaining facts, your blog can become the go-to for people interested in your product or service, but who are not quite ready to buy.
Having built credibility, you can then integrate a blog's call to action to drive visitors to your website's landing page, where they may exchange contact information for more or better content. You use this valuable data as part of your lead generation strategy.
Blogging for business: B2B
Much like the B2C content, B2B blogs are meant to engage and inform without the pressure of a pitch.
The key difference is the approach of B2B content. In this environment, a good blog can establish you as a thought-leader in your field. The best B2B blogs are never about you. They're always about your would-be customer, addressing their concerns and goals through information on industry trends, new technology, regulations or marketplace developments. An effective B2B blog becomes an ongoing conversation with peers and in turn a remarkable tool for B2B lead generation.
Blogging for business: Bots and Keywords
The best websites and blogs in the world won't do much good if they're buried within the lower-ranking pages of Google search engine results. So the more SEO-optimized, high-quality content you can get out there, the better chances a bot (an application that "crawls" web pages for content) will recognize your keywords and place you higher.
Google's Panda and Penguin algorithms, as well, study your blogs carefully. If you do your homework and create great content that doesn't engage in black-hat tactics, you'll stand a better chance to rise in the rankings as well.
Begin blogging for business now.
Your blogs can raise your profile, enhance your credibility and teach you great new things about your customers. Start your conversation today.