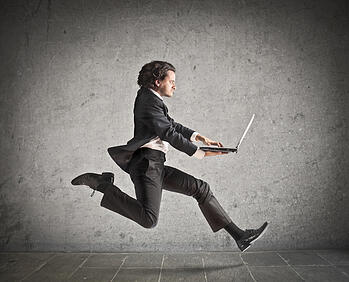 It is safe to say that the way you generate sales leads today is not the same way you did 20, or even 10, years ago. At least it shouldn't be the same.
Why? The customer you once courted via "outbound" or interruption marketing – direct mail, broadcast, outdoor boards, Yellow Pages and cold calls – no longer is quick to respond to these fading media.
The Business-To-Customer (B2C) market has notably gone online; according to a November 2013 CNBC piece, online shopping was poised to overtake brick-and-mortar visits for the first time during last year's holiday season, while DealerNews reports that a whopping 80 percent of consumers research their purchases online before ordering or visiting a retail store.

The Business-To-Business (B2B) market, by contrast, is a slower sales process of awareness, evaluation and decision. But even then the Internet's influence is apparent: "The early stages of the buying process have changed such that many B2B buyers rely on online resources versus salespeople for information," notes Inbound Sales Network. And the commitment extends to the B2B companies; according to HubSpot, "B2B companies are much more likely to be completely integrated. 38% of B2B companies completely integrate inbound compared to just 27% of B2C companies."
Clearly, buyers and sellers of all description have embraced technology – it directly affects your inbound marketing mix and helps realize a better return on investment than does yesterday's costly print and broadcast media.
Technology that drives marketing
Even if you are not "that IT guy (or gal)" in your organization, you don't need to be one. Technology need not overwhelm once you get comfortable with today's terms and trends.
The cloud gets a lot of press for its ability to help companies save, share and store vital data without taxing their own bandwidth. Chances are, you have used the cloud and so have your clients – saving pictures to Dropbox, holding WebEx meetings or conducing online surveys.

Mobile access is hot! No longer are computer users tied to their large desktop set-up, and even the laptop is falling out of favor. Instead, would-be customers or clients are on the go. They want their info now – wherever they are – from their mobile devices. So if your website isn't yet optimized for smartphone and tablet, you could be missing out on opportunities to generate sales leads from mobile users.

Social media is a force to be reckoned with, and companies are increasingly taking advantage of the interaction to speak more directly and personally to customers, vendors, associates and other stakeholders. So ingrained is social media, in fact, that lacking a Facebook page, Twitter feed or LinkedIn profile may make people think you have something to hide!
Understand basic inbound marketing to get the techie edge
There is a lot more technology tied to inbound marketing – from sophisticated lead tracking and scoring tools to automated email that helps guide visitors through the sales funnel from casual visitor, to qualified lead, to paying client.
Fortunately, you never need to go it alone in the technology universe. Learn enough to choose a team of inbound marketing partners. Your team can be in-house or outsourced but a combination of the two is the most common and efficient means of implementing online marketing resources to generate sales leads that separate the truly promising potential customer from the masses of people online at any given moment. From there, your return-on-investment potential grows.