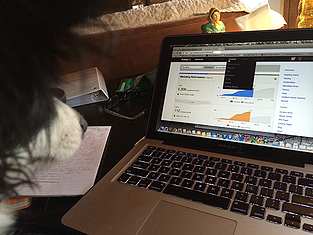 It's no secret that I spend the majority of my waking hours with dogs - five of them to be exact. They help me out during the day by keeping me company while I work. They make sure I don't sit at my desk too long and remind me that "playtime" is just as important as "work time". Occasionally, their antics actually inspire an article or two.
Below are five content marketing lessons that I've learned from them.
Lesson #1: Chasing your tail is not a goal worth chasing.
Setting a goal to "rank #1 on the first page of Google" is much like chasing your tail. Search engine algorithms change so often that spending your time obsessing over getting to the top is pointless. Focus instead on providing valuable content that is useful, engaging and, most of all, relevant to your reader.
Like anything else in life, when you stop focusing on ranking so much it tends to occur naturally over time… just the way it should.
Lesson#2 - Greet everyone with excitement and enthusiasm.
You should, however, greet friends differently from strangers. This goes without saying, right? So just as you wouldn't introduce yourself to someone you've known for years, your website shouldn't either.
The user experience on your site should be tailored to person, your relationship to them as well as their interests. Prospects, leads, and customers should each see something different and relevant to them when they come to your site. In other words, it's not just about "content" it's also about "context".
Lesson #3: Barking a lot is annoying (and can get you in trouble).
Sending the same tired message over and over to people who don't want it, need it, or appreciate it is equally annoying and generally doesn't produce the desired result of earning more prospects or clients. Instead, it usually lands your emails in a "junk" (ever heard of spam blacklists), gets your social media posts blocked, and traffic to your website suffers.
Be certain that the people you are communicating with WANT to hear from you, first and foremost. Beyond that, send them eBooks, tip sheets and videos that solve a problem that you know they are having in their day-to-day life.
Lesson #4: Learning new tricks brings bigger rewards.
Continuing to do the same type of marketing you've always done just because it brought in customers in the past, doesn't make sense. Content marketing isn't like running an ad in the newspaper and hoping that someone who needs your product or service sees it and calls you. Consumers make purchases much differently now. They research online; they look at reviews, what others say about you, as well as how knowledgeable you are on what their problems are.
Sharing your knowledge may seem counter-intuitive but how else can your prospects know that they should do business with you if the only message you put out is, "Buy here. Buy now. Buy. Buy. Buy!" Where is the value in that?
Lesson #5 – Know the value of a good belly rub.
No, I'm not suggesting that you rub your prospects' (or your clients') bellies! But delighting them with the right content at the right time in the right way goes a long way toward building a relationship. (So does a belly rub but that's an entirely different article!)
If you want more info on content marketing, see the offer below. Consider it my "belly rub" to you!