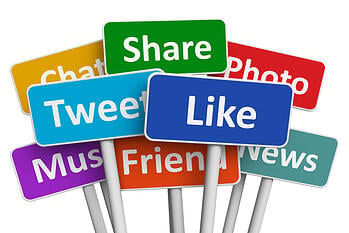 Attract customers using Twitter, download our free guide to learn how
More businesses than ever before are finding new customers using social networks like Facebook and Twitter. When it comes to business to consumer marketing on the web, there are few platforms more effective than social networks. WebDAM reported in a study that in 2013, 52% of all marketers found a customer on Facebook and 43% found one on LinkedIn. With all the buzz around
We always advise our clients about the importance of strategy behind their content in social media marketing. Most business owners start out somewhat confused about how they can provide the kind of social media content that will bring in more customers and approach it by just slinging out random messages through various social channels and then end up concluding it doesn't work when they don't see any obvious change in their sales figures. They're hearing the buzz about being visible in social media but messages about the importance of a well thought out strategy just aren't getting in there with it.
Know Your Target Demographic
To create a strategy for your content, you must understand what kind of prospects you are trying to engage it. Ask yourself and your staff questions like:
What are our prospects' biggest buying concerns?
What do our prospects like to do for fun?
What do prospects in our industry look for in a supplier?
What questions are our customers and prospects asking us?
These questions and their answers will help you create content that is tailored to the people that have a need for your product or service. Once you narrow down your prospects (we call these marketing personas in the online marketing world), there are plenty of studies online that can help you identify trends and values in your target demographics. There are also programs made to monitor your social media presences and gather data to use for business to consumer marketing online. Instead of using a large collection of tools our clients use HubSpot to monitor all of these moving parts.
Go Beyond Just Selling
It is fine to use social networks to provide information about your latest products or ways that your company can help its customers. However, people on social networks will grow tired of following a company that is solely focused on its own offerings. Remember the questions you asked in the earlier step? Use social channels to answer them - be helpful without expecting something in return. Think about what is happening in the world and how it might relate to your customer's needs and your product offerings. Don't be afraid to incorporate some humor as well: prospects will appreciate getting a laugh while taking a break to check Facebook or Twitter in the middle of a stressful workday. Use the 80/20 rule in sharing content in the social space, 80% helpful and external content, 20% self-serving or commerically natured messages.
Understand How Social Media Can Be Used
Thinking outside the box will help you tremendously in business to consumer marketing using social networks. For example, try including interesting ways that people have used your products or services in the past to give prospects a sense of how your company's offerings are unique. Retail stores often provide their verified social network fans or followers with a discount.
On LinkedIn or any social channel, you don't always have to create your own unique content: sharing posts from others can be an excellent way to get your followers engaged and interested in your industry. Twitter is great for quickly interacting with customers and getting their thoughts about your company. The retweet feature makes it simple to broadcast positive sentiments about your organization and what it can do for customers. Keeping your social media posts varied will help people stay entertained.
Ask Questions
One of the simplest, most direct ways to engage any audience is to ask them a question. To spark a more detailed, in-depth conversation, use open-ended questions that cannot be answered with a yes or no. You can query your fans and followers about news stories in your industry or happenings in sports or pop culture. This gives people the impression that your business cares about the feelings and opinions of its past and future customers, which builds value for your brand.
Whether your company primarily uses Twitter, Facebook, LinkedIn, or even Pinterest, content is key. These tips will help you improve your social media content for more success in business to consumer marketing. Keep content interesting and targeted towards the right people and you will be well on your way to marketing success on social networks.