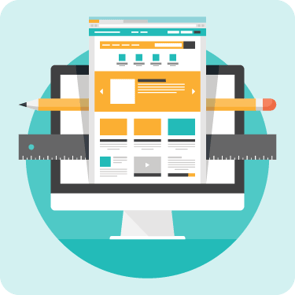 When was your last "Aha!" moment? Ours was when we watched Dr. Susan Weinschenk's 7 Principles that Make Your Website More Engaging video. Dr. Weinschenk makes some interesting and valid points about modern-day user experience. We just don't browse the web like we used to. Nowadays we're on a mission to find top-of-the-line information, products, and services.
However, with the amount of websites that are out there now, how do we ever make any decisions?
It's simple, really. We look for the most engaging, well-designed websites.
How do you know if a website meets the criteria? Probably one or more of these 7 principles were applied:
More Options Aren't Always the Best Option
When you go to buy a car, do you test drive all of the cars at the dealership or just the select a few you've had your eye on for some time? Test driving all of the cars would be time consuming, and by the end of the day they would all start to seem the same.
This can also be said for customers who make purchasing decisions on websites. Having options is definitely a good thing, but you don't want to overwhelm your visitors. Too many choices can cause people to freeze in their purchasing decision, which is good for neither you nor the customer. When in doubt, always remember the K.I.S.S. principle: Keep It Simple, Silly!
We Look to Our Peers More than Experts
When browsing for a product, what are some steps you take before you buy? We'll bet that one of them is checking the reviews of people who have already purchased the product. They may not be much, but we put a lot of value into those little star ratings underneath the name of the product. We especially flock to the detailed reviews that answer all of the questions and concerns we may be having about the product or service. We want to make the right choice, and it's helpful to know if other people felt like they made the right choice before we make a decision!
Scarce Items Seem More Valuable
We have all been there. That gut-wrenching feeling when that item you've been wanting has SOLD OUT in big bold letters written over it. You keep checking and checking until it's finally back in stock. But there are only 3 left! You'd better hurry and put it in your cart right away before someone can snatch it out of your hands! Sound familiar? Many websites use these tactics because they work. Our subconscious minds are very sensitive to feelings of loss. It is a powerful trigger that will cause us to take action.
Food, Sex, and Danger Get Our Attention
While it is not always appropriate to use food, sex, or danger on a website, they are powerful triggers that get our attention, and they oftentimes lead to action on the part of the consumer.
The Power of the Human Face
It is said that one of the most powerful images anyone can see includes that of the human face. Time Magazine is notorious for having their covers focus on just the human face. These covers are very compelling and make you want to pick them up and read what's inside. The same principle can be applied to a website. Studies show that we tend to focus on the eyes, so when you have pictures of people on your website, make sure they are facing the camera and engaging with the viewer.
Tell a Story
Engaging the imagination is a very powerful tool. This is because our minds process information best when it is in story form. Being able to visualize, recreate an event, and actually feel like you were there engages us more than reading general information. Personal experience is captivating – utilize it!
Commitment
Commitment is a key component of customer loyalty. Start out with smaller commitments for your visitors, such as signing up for your email list or downloading one of your free offers. If they like what they see, they will revisit. At that time, you can ask for a little more, maybe a free consultation or a phone call. If they are pleased yet again, you can initiate a final commitment such as paying for a service.
Smaller commitments lead to larger commitments – don't rush the process! Soon you will have loyal customers and clients who appreciate your business and will spread positive reviews about your services or products.
That's it! Those are the 7 fool-proof principles that can guarantee a more engaging website design. Apply some of these to your website and see where it takes you.