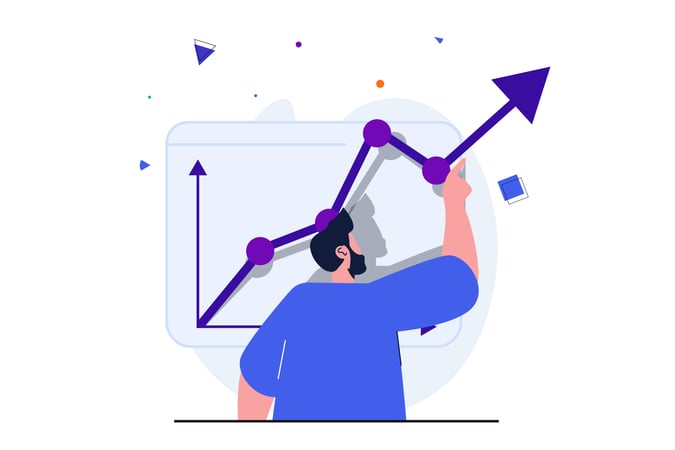 The healthcare industry is undergoing rapid digitalization. High demand for telehealth services, data analytics capabilities and tech-enabled patient experiences will create ample opportunities for healthcare software vendors to grow in the future.
To attract and retain more customers, you need a well-designed digital healthcare software marketing strategy. It can help you position your products or services effectively in the marketplace, create messaging that appeals to your ideal clients, identify the best advertising channels, and optimize your marketing budget to generate the highest ROI.
8 Steps to Create a Healthcare Marketing Strategy for Software
Here are the key steps for creating a digital plan for healthcare software or SaaS marketing to set a solid foundation and guide the implementation of your strategies:
1. Define Data-Driven Marketing Objectives
Set data-driven marketing goals with a focus on website traffic, conversions, and customer retention. Identify the right key performance metrics (KPIs) that have direct impacts on business growth and define the percentage by which you want to improve them.
Put the right analytics tools in place and establish data benchmarks. Then, assign specific metrics to team members to promote accountability. Aside from being as specific about your targets as possible, you should tie each KPI with your short- and long-term objectives so team members can understand the impact of their efforts.
2. Know Your Audience and Update Your Personas
The B2B marketing landscape and buying group dynamics have been shifting. Your target audience might now have different pain points and priorities than years prior. It's time to revisit your marketing personas and update your messaging, segmentation, and targeting strategies.
Survey your audience to get a general overview of software and SaaS market demands and interview your customers to gain in-depth qualitative insights. Working with a healthcare software digital marketing agency can help you conduct focus groups and analyze the competitive landscape to further inform your strategy.
3. Respond to Healthcare Software Marketing Trends
The healthcare industry is changing quickly. Stay ahead of your competitors by acting on the latest marketing trends so you can meet customer expectations. Some major areas to focus on include user experience, content marketing, and intent data analytics.
In particular, keep current with the latest development in marketing technologies. For example, the use of AI in marketing is changing everything from content creation and online advertising to customer service and personalization.
4. Conduct Competitor Analysis
To stand out in the competitive software or SaaS marketing environment, you need to know what you're up against so you can strategically position your content and offers to distinguish your brand in the marketplace.
Besides their overall marketing strategy, take a deep dive into your competitors' tactics in content marketing, social media marketing, SEO marketing, and video marketing. You can also conduct a SWOT analysis to identify opportunities in each area.
5. Incorporate Inbound Components
Most B2B buyers research online before contacting vendors. An effective inbound marketing strategy can help you attract the right prospects early on in the customer lifecycle and cultivate relationships to drive conversions.
An effective inbound strategy has many components. You not only have to implement individual tactics but also address how they complement each other throughout the customer journey. Partnering with an inbound marketing agency can help ensure that all the pieces are working together effectively to maximize your ROI.
6. Add Content Marketing to the Mix
Content is a key component of any inbound strategy, which is highly effective for supporting B2B technology sales. Your healthcare software marketing plan should address how you can position your content strategically to attract more ideal customers and facilitate the buyer's journey.
Refer to your ideal client profiles/personas to see how best to address your audience's pain points and concerns with the right content at the right time. Also, find out where your customers get their information, what search terms are helping you attract high-quality traffic, and what content types or formats your audience prefers.
7. Make Your Plan Actionable
An effective healthcare software marketing strategy for software also needs to turn strategies, insights, and contextual information into actionable tactics. For example, you can use value proposition mapping to illustrate the various components within a strategy or a flow chart to map out processes.
You should also create an editorial calendar to ensure that your content strategy is in sync with the rest of the marketing plan and use a product roadmap to inform how you orchestrate marketing activities to support new launches and announcements.
8. Track Your Results
"What gets measured gets done" -- it's important to track the KPIs you have established and set a regular schedule to review the metrics so you can be sure that you're progressing in the right direction.
Keep in mind that it may not be possible to measure certain objectives with quantitative data. For example, it's not as straightforward to gauge the effectiveness of a branding initiative. In that case, you'll need to establish qualitative benchmarks (e.g., use surveys to find out customers' perception of your brand) or identify indirect metrics (e.g., increased use of your product name as a search term.)
Set a Solid Foundation with a Healthcare Software Marketing
A comprehensive digital marketing plan is essential for managing every aspect of your marketing strategy. Download our comprehensive guide "How to Build a Successful Digital Marketing Strategy for Healthcare Software" to learn how to reach your target audience in a tough industry.
However, it's not always easy to have all the in-house expertise you need to cover all your bases. Partnering with a healthcare software marketing agency can give you access to the knowledge and experience you need to design the right strategy and implement the tactics effectively.
When choosing a digital marketing agency, make sure that they have in-depth knowledge of the healthcare industry and extensive experience in digital marketing. They should collaborate with your team as a partner and guide you through the entire digital marketing process from end to end. Your healthcare SaaS agency should help you stay ahead of the latest trends in digital marketing and the healthcare software industry while delivering a return on your investment every step of the way.
Ready to explore how partnering with a healthcare software marketing agency can augment your success? Schedule a time to chat with us and see how we can help.