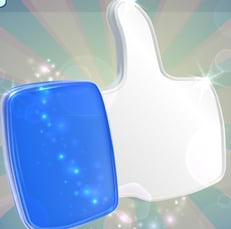 I once saw a grandfather clock that dates back to the early 1700s. While the clock's age was certainly a remarkable feature, its 300-year legacy would mean nothing if the timepiece was no longer functioning or if the clock's face was broken or marred. Similarly, our families have inherited multi-generation antiques that have been repaired or repainted and then stripped back down to the original wood - always keeping the authenticity and integrity of the pieces intact - so that we could refinish them again.
Both examples of well-preserved or restored antiques can serve as metaphors for how your company's social media accounts should be cherished - brand authenticity intact - even while you tailor their moment-by-moment appearances and interactions to suit your company's, clients' and/or trends' evolving needs. That ever evolving "polish, step back, and polish some more" technique translates to a noticeably higher ROI for your business.
Adding the Right Kind of Sparkle to Your Social Media Accounts
Did you know the average consumer spends about 4.6 hours a week interacting with social media? That singular activity trumps weekly hours spent on email (4.4), multimedia (3.7), gaming (2.9) and even shopping or catching up on news (4.5 combined). If social media accounts are stuck in a rut, all those valuable conversion hours are wasted because your conversations are being passed up for the next, most sparkly competitor's conversations.
The last thing you want is for Facebook or Twitter accounts to remain stagnant, like cast-off antiques - fading, cracking or becoming obsolete. Instead, you want your social media channels to maintain your company's genuine brand while making the necessary repairs and tweaks, and continually polishing their surface to an unrivaled shine. This approach will appeal to visitors and keep them actively posting and sharing your valuable content.
How to Polish Your Social Media:
Re-think the purpose. Originally, armoires held clothes; now they're repurposed into everything from linen closets to entertainment centers. Your Facebook and Twitter accounts are similar. They began as one more way to promote yourself. Now, your Facebook page should be considered like one of the most important landing pages you have - repurposed to stand alone while also acting as a launch pad to your website and other social media accounts.

The same is true for your Twitter account. It's more than just a way to "chat" with followers. Bring your Twitter account out of the corner and place it front and center, with a rounded out bio, a page listing employees' Twitter handles and plenty of links to your website, blog and other social media accounts. This will increase overall activity.

Fill in the cracks. Once antique wood dries out and splits along the grain, it gets more difficult and costly to repair. Instead, you meticulously oil the wood and fill in cracks as soon as they appear so the piece doesn't fall into permanent disrepair. Start looking for those cracks and gaps in your social media accounts, the places where you're losing your engagement and conversion power.

Keep polishing across the board. One thing that becomes quickly apparent with these social media bits-and-bobs is that there sure is a lot to polish. Most companies simply don't have the time to "pretty up" their social media accounts as routinely as necessary to maintain the value of their ROI. This is where a professional web design agency makes all the difference, effectively retaining the value of your social media presence while delivering cohesive messaging, branding and functionality that aligns with the needs of your target markets as well as your inbound marketing goals.