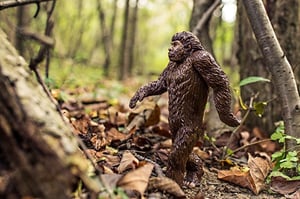 Belief systems are powerful. They can empower you to become more successful than you've ever been before, or they can hold you back - unconsciously ensuring you repeat the same, ineffective cycles over and over again.
That's true of your personal life, and it's also true of your professional life. Believing in any one of the SaaS marketing myths listed below will trick you into lackluster marketing patterns that hold your business back.
5 Common SaaS Marketing Myths
Releasing these myths, and honing in on fact-based truths, will yield the ROI fruits you're striving for.
Myth 1: If your product/service is good enough, it will market itself
This also shows up as, "we sold 5000 products without any marketing whatsoever." No, you didn't - and none of your competitors did either. Somebody, somewhere did some marketing. Perhaps you told your mom about the product and she recommended it to her best friend. You've started a LinkedIn profile that speaks about your product/service in some way. You probably have Facebook or a website.
All are considered marketing, and while they might work independently at first, it takes strategic planning to propel conversions and sales figures upwards.
Myth 2: Thinking terms like "in the cloud" or "web based" are still effective
Those terms were effective back when "SaaS solutions", "clouds" and "web-based anything" were new, fresh and revolutionary. It's sort of like boasting your business storefront is located on a paved road - isn't everyone's? Instead, marketing strategies should revolve around niche-specific pain points and real, honest-to-goodness solutions.
Get very specific about what your target niche wants and needs and the best way of sharing what you have to offer to visitors and prospects. Leave vague and catch-all phrases out of the marketing picture.
Myth 3: Inbound marketing is free
Sure, there are ways to optimize SEO strategies, website and content so visitors are continuously led to effective landing pages without much extra effort. However, creating a solid inbound marketing strategy is never free. It requires an investment in website design and management. It also requires a marketing team that gets specific about your brand and its target market, while still holding the broader, forward-thinking, company vision. That's never going to be free.
Myth 4: We need to get tons of people to our website, then sales numbers will spike
It's not about getting tons of people to your site, it's about getting the right people to your site. Once there, visitors need quick answers to search queries and concerns or they'll go elsewhere.
Phase One is to really know who those target personas are; Phase Two involves content creation that nurtures target personas at every stage of the sales funnel. When you view it this way, you can see why 2000 visitors and three sales conversions is much less impressive than 10 high-value visits that yield six conversions.
Myth 5: Marketing emails are a waste of time because nobody reads them anyway
This prevalent SaaS marketing myth probably used most to self-soothe the same people who want to believe Myth 3. Here are some recent email marketing stats that prove otherwise:
60% of consumers prefer email marketing to keep up with offers and updates (smallbiztrends).


E-mail remains a significantly more effective way to acquire customers than social media – nearly 40 times that of Facebook and Twitter combined (McKinsey.com).


Every $1 spent on email marketing generates a $38 ROI (campaignmonitor.com) and some reports claim even larger ROIs.
Segmenting is essential to email marketing success - using automation can also increase email efficacy.
Do any of these myths resonate with you? Let them go. It's time to restructure inbound marketing strategies that turn visitors into customers. That's the true secret to success.