Facebook Business Pages Need Great Content & Graphic Design Services
You can't look at any website or other marketing effort without seeing that familiar logo and plea: "Like us on Facebook." But imagine what the response might be if you answered: Why should I?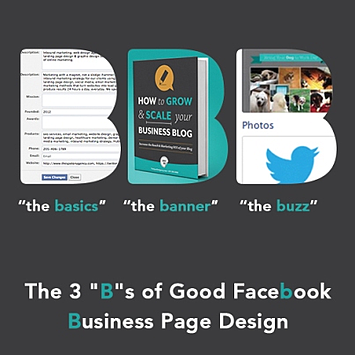 Why should you like a Facebook business page if that page exists only to make sales pitches, or lacks visual engagement, or appeared to attract no comments, likes or shares?
Creating an effective business page not only takes a fundamental understanding of your target audience, it takes a commitment to publishing a consistent schedule of relevant, engaging content. This content should be original blog posts or videos you create, plus highly valuable, informative pieces found and shared from elsewhere. It can also include simple messages that let people know you're thinking about them.
And to complement it all, your Facebook page needs the benefit of good graphic design services to put it all together in an attractive package. Facebook may be based on a web template, but you still take steps to optimize the look for the best result. It should be consistent with your overall brand.
When putting together your business page, consider the three "B"s:
The basics
Complete every Facebook data field before you publish your page. Once you complete a few simple required fields like your business' category and address, you can start the fun stuff: filling in the About information with relevant information like your company description, hours of service, free parking, and any other differentiator that stands your company apart from your competitors.
The banner
A banner is also known as the "hero" shot – that one big image that splashes across the top of your Facebook page to grab attention.
Look at the banner for Famous Dave's of Louisville – wouldn't you be drawn to that tempting spread of fun food?

Ecycler's banner shows you exactly what this recycling service is all about, making you feel good about this community site.

And SmartPak knows one marketing truism: You can't go wrong with pictures of horses, especially healthy, accomplished ones owned by your satisfied customers.
The banner's statement is the first thing your visitors will see, and your graphic design services company's goal is to make yours memorable.
The buzz
Reserve some space to offer visitors something special and get people talking about your page.
Your graphic design company can create special tabs to promote offers, such as this example from Cinemark, which provides a weekly coupon, showtimes and movie photos to foster interest in the movies and the movie theater.

Encourage customers to play a part in your page, as Olive Garden does. Though the restaurant retired its slogan "When you're here, you're family" in 2012, the chain retained its family-style photo album, which has more than 5,000 "likes."
Make the most of the medium
Social media draws attention for a reason – people like to keep up with others. And when that "other" is a business, showing your personality can get you noticed.
When you team up with a graphic design services company, you can take your Facebook (and Twitter, and LinkedIn, and Pinterest) page to new heights of engagement and make social networking a vital component of your inbound marketing campaign.