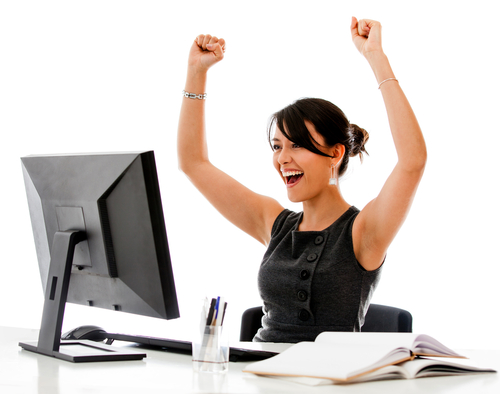 We all want to generate more leads from our websites, right? Well, this is how long you have to do it….one, two, three! You have three seconds to grab the attention of your website visitor and guide them in the direction you want them to go on your website.
Three Seconds! That's why it's so critical to use best practices for optimizing lead generation on your website. The overall strategy for lead generation online is called inbound marketing. Here is a list of five must haves to get things rolling:
1. SEO or Search Engine Optimization
The internet has changed the way people search, find, share, shop and connect. More and more people are using the internet to search for information on products and services they want to know more about. And of those people searching, 75% never scroll past the first page of search results. So, here's the million dollar question – Can they find you?
If your business is not ranking well for the words that describe your products and services – then you are not getting found by your potential customers! Using the correct key words – words that can rank you highest is really important. Be sure to analyze and adjust them accordingly.
2. Blogging
So, are you one of those people who understand the value of blogging…or do you turn up your nose at the thought of it? Blogging is hugely important in attracting qualified leads to your site. Blogging allows you to add consistent, quality content to your website and by using the correct key words and key word analysis allows you to generate more targeted and qualified leads.
Studies have shown that B2C companies who blog generate 88% more leads per month and B2B companies that blog generate 76% more leads per month than those who do not.
Prospects, customers and search engines all LOVE the content that is generated through blogging. Blogging helps prospects understand what you do for your customers. Your customers can stay up to date with what you have to offer them. Search engines can search each page of your post for content they can index for specific topics and feed to others searching that phrase!
3. Social Media
Social media is an effective way to not only create exposure for your business, but it is a proven way to engage with prospects and generate leads.
Here are a few interesting stats:
Both B2C and B2B companies are acquiring customers through Facebook.

Companies that use Twitter average double the amount of leads per month than those that do not.

And businesses that spent just six hours per week using social media by engaging and sharing content on it saw 52% more leads!

But many businesses are overwhelmed by the multitude of social media channels available. Be sure to find out where your customers are and use those channels to reach them.
4. Website Lead Generation
Not all potential buyers on your website are at the same level in the buying cycle. The content you offer on your website should educate your prospects, and help them get smarter about what they need. By providing your prospects with information that fits their level of connection, they can understand how your products or services could fulfill their need. According to FOCUS, it is only in the last third of the sales process that prospects actually want to engage with a sales representative. It is important that your site can map the different stages of your sales process, so that the generated leads can be nurtured accordingly.
5. Lead Nurturing
Lead nurturing campaigns help you further educate your prospects and build relationships with those non-sales ready leads in a scalable and effective way. These campaigns can produce increased sales opportunities by helping you excel at generating more sales ready leads and best yet, at a lower cost per lead.
So use those intial three seconds well! Keep your website visitors on your site long enough to take action by creating an experience that your website visitors value, love and learn from. Successfully generate more leads using creative content, social media, landing pages and exciting calls-to action and creating a powerful lead nurturing campaign. And with any luck, you'll have them hooked!