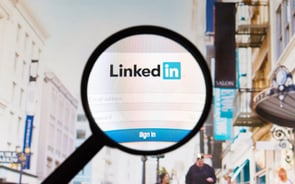 Facebook, Twitter and Instagram may get the wider share of the spotlight, but LinkedIn is a valuable healthcare marketing tool. As such, it should be included in your healthcare establishment's lead generation plan.
There's a good chance you're neglecting LinkedIn's networking potential because your lead generation efforts are targeted more towards prospective and current patients. However, LinkedIn offers a way to generate leads from the medical industry itself.
In addition to putting you in the sight range of leading and upcoming medical stars that can build your brand's reputation, good impressions will garner valuable professional referrals that make a marked difference in the patient roster numbers.
Inbound Healthcare Marketing Stats to Inspire LinkedIn Action
Generation Z (18- to 24 year old) is 2 times more likely to use social media for healthcare discussions than their older counterparts (AdWeek). Also, 90% of this age demographic trusts information that's shared by their network via social media. What are you doing to make friends with Generation Z? Generation Z is the future of your healthcare-oriented business. And, let's be honest, who has time to look for—and establish a relationship with—a new doctor if they don't have to? If you build a sense of trust, security and authority with younger patients, you'll win patients for life—and they'll refer friends, family, other Generation Zers, and so on.


26% of U.S. hospitals have a social media presence (Spark Report). If you don't, you're behind the curve. That being said, 74% of competitors don't have one either. Once your social media presence is established, you'll be way ahead of the curve.


31% of healthcare professionals use social media to network. Want to hook the biggest expert fish so you can release them in your pond? Developing a healthy LinkedIn presence is one way to start. The professional networking you establish via a well-curated group could be the wellspring from which you generate those aforementioned professional referrals—and employees.


40% of patients say that social media can affect whether or not they choose a specific hospital, medical facility or doctor. Generating leads in the healthcare industry is all about building trust. One way to do this is to ensure your healthcare professionals—from the administration and doctors to the nurses and other care providers—have a positive social media presence. Their LinkedIn profiles will show up on searches, and a well-rounded and informative profile can go a long way towards boosting patient and prospects' confidence.


More than half of surveyed patients feel "more than comfortable" with their healthcare providers seeking treatment advice from colleagues via online sources. Here's another way your LinkedIn presence can work with your lead generation plan: as your healthcare professionals build their LinkedIn network with other experts across the specialty spectrum, they have access to a wider source of information—and that makes your patients feel more comfortable.


80.33% of B2B business is generated by LinkedIn (LinkedIn). If your products and services are targeted towards hospitals, medical facilities and other healthcare-related industries, LinkedIn profiles are integral to your B2B business campaigns. Plus, they'll tap you into new and upcoming medical professionals and healthcare resources as they drip into your LinkedIn network.


94% of B2B businesses use LinkedIn as part of their content strategy (Content Marketing Institute). Content marketing is integral to your SEO strategy, and LinkedIn is an important piece of that puzzle.
We've said it before and we'll say it again: social media strategies, including a LinkedIn lead generation plan, are one-part art and one-part science. Make sure you've nailed both aspects to support your LinkedIn marketing campaigns.
image credit: dennizn / Shutterstock.com