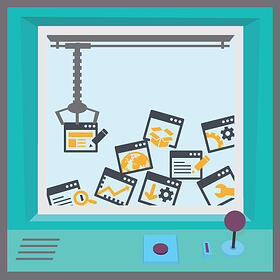 What Does It Take to Capture Attention?
Oftentimes, the biggest hurdle to garnering your share of online attention is properly utilizing the dynamics of site optimization.How to get found online is a common frustration of most business owners. You have the website, you've identified your target audience, and you've force-fed all the clever methods of crafting your online pitch, yet they still won't come.
SEO Is Not a Set of Steps
Contrary to what most people will tell you, search engine optimization is not a simple formula of 'do this and that' to guarantee you'll get found online. You know the old adage, "it's easy to write a book but difficult to complete it," Same with building an online presence. It's easy to get on the web but traffic generation can be an uphill battle. Quite frankly, competition is abundant and if you're not using inbound campaigns to get found online, you're depriving your business of success.
The Usual Suspects
One of the major advantages of inbound campaigns is that you get long-term results. It's a strategy repeated often to get found online, but the cornerstone of marketing campaigns is continuous effort, thus the reasons behind enlisting SEO services.
Most of you begin with the usual suspects that include quick action steps to get found online;
Meta tags; the powerful HTML coding that helps the search engines interpret and define your website.
Keyword-rich content; it's important to have keyword-rich content that client seek. By using certain keywords and long-tail phrases your audience will find you must faster.
Blogging; if set up correctly and effectively used, blogs can be a powerful source for both traffic and sales. The added benefit is that blogs are free, more conversational, and a blog can boost your online awareness.
Video Blogging; You tube is one of the greatest traffic generation tools on the web. Customers are more responsive to videos because we're naturally visual. Our eyes believe before our brains decipher the information. Additionally, video creates a level of trust, and it's a great way to associate your name while building creditability.
Linking Strategies; back links from other sites offer Google a recommendation on the relevance of your website. As you accumulate stamps of approval, your credibility improves.
Admittedly, all of the usual suspects mentioned above offer a path to popularity, but those are only foundations you start with. Far too many business owners stop right there with their foundation exposed, walking right past the gold mine.
3 Must-Have Elements to Get Found Online
Of course, there are a mountain of inbound marketing techniques, but consider these top 3 components that quickly help you get found online;
1. Landing Page Design; Google favors dedicated landing pages that are code compliant. There are many ways to display web pages and your web design agency should deliver a site that search engines can interpret.
2. Psychological Elements; the secret ingredient to every marketing plan is Psychology. Serious business owners infuse their websites with several elements that get the audience to make a commitment. The use of emotional words and hypnotic commands help overcome resistance. You only need to know how to embed them into your content.
3. Analyze Results; which of your web pages generate the most traffic? Site analysis gives you insight about who visits your site, how long they stay, and which pages they prefer. As a result, you can use this information to make improvements and get found online.
If you really want to command attention, get found online, and solidify your client base, learn more about the anatomy of inbound campaigns.