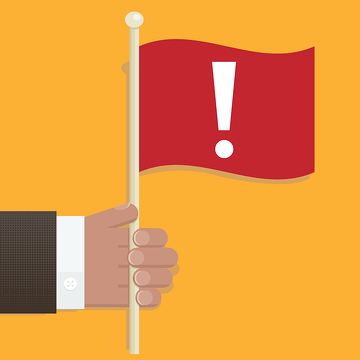 Every business owner with a website shares a goal: to get found online. However, the intricacies of search engine optimization (SEO), optimal website and white space, effective landing page content and calls to action and the many other elements that go into drawing traffic can be daunting. And
too often, that makes companies easy prey for scam artists who are more interested in relieving you of your cash than in building your business.
Below are a few common red flags to watch out for when you're hiring a web design agency, seeking SEO services or shopping for other professionals to help you get found online.
Beware of Grandiose Promises
An agency that promises that its SEO services will give you top ranking on competitive terms almost immediately or hints at connections or secret tactics that will give you a competitive edge may be misrepresenting its services in order to get you to sign on the dotted line—if you're lucky. The alternative is that the company is using black hat tactics that could get your site penalized or even banned from major search engines. It is NOT POSSIBLE for any provider to GUARANTEE a number one or even a front page keyword rank (except perhaps for keywords that don't generate traffic - like your business name, locality specific terms and long tail phrases that don't have very many people using them which in turn means no valuable traffic to your website).
Don't Make Open-Ended Agreements
If you're dealing with an established web design agency, the company will have a clear idea of how much time investment is required for basic design and programming functions. Sure, there are occasional deviations, but a designer who can't or won't give you a clear expectation of the time or expense involved in your project may lack the experience to do the job in a timely, cost-efficient manner.
Don't Pay Full Price Up Front: Many professionals and agencies require a deposit up front, and that's perfectly reasonable. You're as new to them as they are to you, and they have to exercise good business sense, too. However, you should never make full payment in advance, and should be suspicious of any designer or other agency that asks you to.
Ask for References and Samples: Anyone can talk a good game about the results you can expect when you let them take over your SEO efforts or manage your inbound marketing or redesign your website to maximize conversions—but can they prove it? Don't accept generalities or vague references as proof that an agency has the experience and expertise you need: ask for specific websites they've worked on and check their work yourself. And, get contact information so that you can verify the work they did with some past clients.
Question Long-Term Commitments: Though some businesses have legitimate reasons for locking you in to a minimum contract period, others use year-long contracts to secure themselves against attrition when you find out that their services are less valuable than you'd anticipated. If you're asked to make a long-term commitment, ask why and make a realistic assessment as to whether it makes good sense for both parties or is it just a way for the agency to ensure that the checks keep rolling in even if you're not happy with their work.
Beware of Fast Easy Results
When businesses approach advertising and marketing services they've sometimes waited until they are facing a crisis of declining sales. Unlike in the past when it was possible to inject cash into a few campaigns of advertising and see an immediate boost in the bottom line, it takes much more effort these days to convince people to make a purchase from you in the online environment.
For those just realizing the intricacies of online marketing, climbing the mountain of building an inbound marketing strategy from ground zero is a very rude awakening. The more competitive the space in which your business operates the more challenging it will be. Adding to the dilemma are dozens of companies prepared to take complete advantage of what you may not yet have realized. It is a buyer beware environment and sometimes the companies providing you a service aren't doing anything wrong or bad. Their integrity can be top notch and you might still wind up wasting a lot of time and money and feeling as though you were ripped off.
For example, buying into a great package of seo services, even if it is 100% successful in driving traffic to your website, won't help one bit if the steps haven't been put in place to convert that traffic to leads and sales once they arrive at the website. This scenario happens everyday and it leaves businesses feeling short-changed.
It is very common for online marketing services to be highly specialized in one area of online marketing. Their job is to provide the service they promise. It will be up to you to use that end result to actually generate sales. In the above example, the seo services worked, the company delivered on its promise but the business who didn't understand how to use that website traffic still lost out in the end.
Make Sure Services Fit Your Overall Strategy
The most common problem that arises in today's online marketing environment involves having a variety of services in play but lacking an overall strategy for using them. To be successful at actually generating leads and new customers from your online presence an overall strategy MUST be in place. The name for it is inbound marketing strategy but it can wear several labels. The point is there has to be an overlying strategy that ALL marketing services you employ (both internally and those that are outsourced) are in synch with so that all the moving parts are actually running a machine for building traffic to your website where it will then be converted to leads, and ultimately new customers. If you don't have a strategy or don't understand how content marketing campaigns work, its best to do a little reading on this topic before you seek out the services you want to use.
Professional SEO services, the right web design agency, seasoned inbound marketing professionals and other experts can give you exactly the boost you need to get found online and increase conversions. However, the industry is also fraught with opportunities to make expensive mistakes. When choosing an agency or service provider, make sure you do your homework and don't ignore warning signs like those that are outlined here.