If the word "blast" always accompanies "email" in your digital marketing strategy, maybe it's time to get a new strategy. It is time for targeted email marketing and lead nurturing.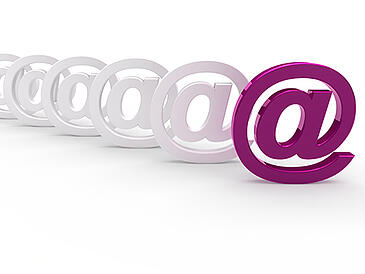 In the early days of online marketing, sending one email to an entire database probably sounded pretty sensible. After all, casting a wide net worked with display ads and TV commercials.
But as people grew to use the Internet more, they became sophisticated about the kind of email they were willing to read. They became savvier about marketing in general – DVRing through TV commercials, ignoring direct mail, downloading pop-up blockers on their computers and employing a spam blocker that kept many mass-market emails at bay.
And worst of all – many "batch and blast" email campaigns just didn't work so well.

Marketing Sherpa uses the real-life example of a bead-selling company that blasted a "big savings" coupon email to a huge mailing list in pursuit of quick revenue.
Doing so once brought money in, but sapped inventory to the point where the company needed to replenish stock quickly, which cost more money.

So to pay for it, the company had to run another "big savings" coupon, and the cycle repeated itself.

Eventually, customers had become accustomed to "big savings," putting at risk the possibility that they would pay regular price again. "It's a very damaging cycle," the bead company CEO told Marketing Sherpa.
Cast a smaller net
Today, the key to targeted email marketing and effective lead nurturing is to tailor your message to smaller specific audiences.
But getting more revenue by marketing to fewer customers – doesn't that sound counterproductive? Not when you consider that email is like other forms of content marketing – your goal is to identify and speak to only those people who are most likely to follow the sales funnel from visitor, to lead, to customer.
Your targeted email is aimed at what Marketing Sherpa calls the "high value segment" of your email audience, defined as those customers who made recent purchases, made purchases with a certain frequency, and spent a certain amount of money.
This is known as RFM – recency, frequency and monetary – segmenting.
Kinds of targeted email
Email newsletters. Like a blog or a video, an e-newsletter helps you build credibility without using a traditional sales pitch. Your newsletter can contain B2C or B2B tips and industry updates that offer genuine value to recipients, and contain a compelling call to action that drives your target to a landing page where they may exchange information for more content.

Email offers. Unlike the "big savings" coupon approach, an email with a targeted offer that emphasizes the exclusivity makes the recipient feel special. Even the offers can be targeted by segment, with different items or services for recipients more likely to respond.

Email as cross-channel marketing. If your research reveals that your target prefers social media to email, use that preference to your advantage with email that promotes your Facebook, Twitter, Pinterest or other social site.
Does it work?
The bead-selling company that endured revenue-sapping email blasts changed its tactic to targeted email marketing. Their results? An open rate of more than 20 percent and a click-through rate of more than 4 percent.
And the conversion (to paying customer) was 0.71 percent – a remarkable figure when you consider that the email blast rate ranged from 0.04 to 0.23. Targeting email "just opened my eyes to the different possibilities with what we are doing," the CEO said.
Targeted email marketing is a big part of inbound marketing. Click below for an infographic that explains how it works.