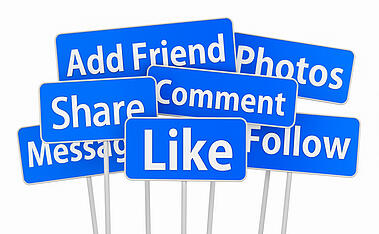 If you've been slow to incorporate Facebook into your healthcare advertising plan, you're not alone. Just as the healthcare industry has been slow to embrace digital content marketing in general, medical marketing professionals have lagged behind in the trend toward social media marketing. However, if you're following the crowd in this arena, you're missing an important opportunity to reach prospective patients.
73% of adult Internet users in the United States are on Facebook--and they're active. According to Facebook, more than 40% of Americans log in the the social network's website every day. That's about 128 million people. It's no surprise that more than 11 million companies already have pages on Facebook. And, the demographics don't necessarily fit the assumptions you may be making: for example, 56% of Internet users aged 50 and over use Facebook.
In short, regardless of your specialty area, your prospective patients or their decision-makers are on Facebook. A few years ago, Facebook was widely touted as an excellent forum in which to meet your prospects for free. Drawing followers to your Facebook page meant that you could communicate with them freely, and they could easily share your content with their own networks.
That has gradually changed, but the fact that it's no longer free and your promotions won't work exactly like other social networks doesn't mean that you should overlook this opportunity. Simply think of Facebook as you would any other healthcare advertising channel: you're paying to reach your target market.
Healthcare Advertising on Facebook
Although there are a variety of differing formats, Facebook advertising basically breaks down into two categories: straight advertising and paid promotion of your company's Facebook page.
Facebook advertising is much like any other type of online advertising. You bid per click or per impressions, and the cost of advertising depends on the competition. The power of Facebook advertising compared with other online outlets stems from the combination of the large number of prospective patients logging in to the site and the extensive demographic selection Facebook allows. You may target your ads based on geography, age, sex, marital status and even particular interests.
Ad creation is quick and easy. And, because you have the ability to set daily budgets, schedule campaigns to terminate automatically or turn advertising on and off with just a few clicks, you can experiment without significant risk to your budget. You can also tweak and improve your advertising as you go, or swap out ads on a regular basis.
Paid promotion of your Facebook page is a relatively new addition, and one that is still in flux. A few years ago, all followers of your page would see your updates in their news feed, just as they do posts from their friends. Then, the system changed, and now only a small percentage of a page's followers see those posts organically. Now, you can pay to increase the visibility of your page and post.
Exactly how that works is still changing: sponsored posts, once a popular means of reaching your target market, are being eliminated in April 2014, and presumably there's more development to come. In general, however, boosting page visibility can be a simple, cost-effective way to reach a wider range of prospects.
Facebook has the reach, the advertising options are easy to implement and the cost is reasonable and doesn't require commitment. In short, you have nothing to lose by experimenting with Facebook advertising and the potential gains are significant.