Healthcare Marketers: Do You Know the Key Performance Indicators That Measure the Success of Your Content?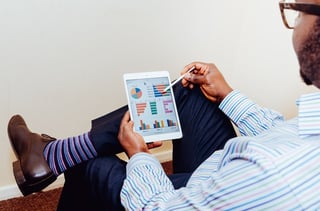 The physicians and healthcare facilities you work to attract have specific methods for assessing patient health. The basics include things like pulse rate and blood pressure, and the way the blood sounds as it moves through the heart with each beat. They augment these basics with additional tests evaluating cholesterol and blood sugar, or vitamin/mineral concentrations indicating a potential deficiency or latent medical condition.
In the world of healthcare SaaS marketing, we do the same thing - only we do it by evaluating key performance indicators (KPIs). Analyzing these numbers, setting benchmarks, and continually tweaking content to amend or capitalize on certain deficiencies and surplus allow us to be more successful.
KPIs Measure the Success of Healthcare Content Marketing
As software experts, you're in luck. Unlike other marketers, such as traditional retailers or entrepreneurs, numbers and stats are right up your alley. This puts you miles ahead of your fellow small business owners because the metrics and analytics game will come naturally to you.
Here is a list of some of the most important KPIs to examine as you build healthcare marketing content, targeted to your niche audience(s).
Beware the lure of basic SEO metrics
Basic SEO metrics can be very seductive. You can turn into an SEO stat junkie, delighting in things like:
Ranking for keyword terms and phrases
MOZ domain authority
Majestic citation and trust flow
Google SERP rankings
While positive marks in these and other basic SEO metrics are a sign you're on the right track, they don't mean squat if you're not connecting and engaging with prospects and clients in a very tailored way.
For that reason, we recommend keeping an eye on the basics, but fine-tuning your attention to the SEO KPIs with more powerful and personal punch.
Focus on SEO KPIs reflecting real-world success
SEO metrics reflecting more real-world success come from things like:
Increases in organic traffic
Unsatisfactory bounce rates (indicate content isn't providing what prospects are looking for)
Percentage increases in organic traffic conversion
Organic click-thru rates
Increases in the number of pages on your site generating higher traffic
These are the numbers that reflect if the content marketing for your healthcare organization is working - especially when it leads to increased conversions. Those are the future of your company.
Is content working as it was intended?
Savvy healthcare SaaS marketing is just like any other type of marketing - it relies on specific content to attract and engage prospects at different points along their buyer journey.
So, from the top-of-the-funnel to the bottom, we create:
Blogs and guests posts to generate new traffic
Email, long-format pieces and webinars or eCourses for lead generation
Case studies and more inbound, sales-driven lead generation for prospect conversion
Free trials or custom offers to complete the sale
Pay close attention to content you create for each stage of the game. If KPIs plateau or plummet at any stage along this funnel, go back to the drawing board and figure out why.
Healthy lead generation is the pulse of your business
The creme de la creme of KPI is lead generation. Fresh leads that convert in a timely fashion are the pulse - or lifeblood - of your business.
KPIs reflecting healthy lead generation include:
Put simply: word-of-mouth and the best product on the planet aren't enough to guarantee success anymore. Healthcare software leaders capitalize on content marketing by paying close attention to vital KPIs in order to stay ahead of their competitors.