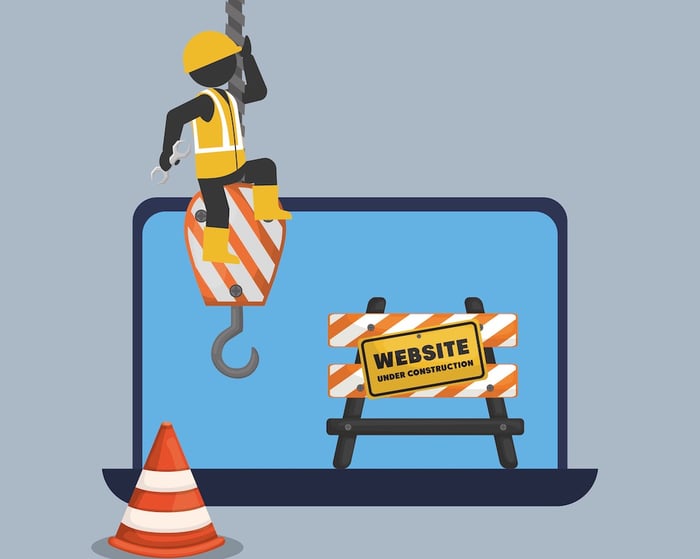 Unfortunately, it's a tale as old as time. A healthcare SaaS-based marketing platform launches a new, beautiful website. Perhaps the brand even allotted a significant portion of its budget for the new website redesign.
Download our ultimate guide on developing and implementing your SaaS healthcare marketing strategy.
However, a few months after launching the site, the return on investment is abysmal. In other words, the SaaS-based marketing provider earns little to no leads, and their traffic has dipped dramatically. So what could be the reason?
It's a hard pill to swallow, but your website design and overall user experience might be causing a roadblock to success. These components often cause websites to underperform without marketers ever realizing it. To achieve the ROI of your dreams, here are a few common culprits you need to address in your healthcare web marketing for SaaS.
Want to cut right to the chase and put your website to the test? Use our free SEO audit tool where we grade performance, mobile optimization, SEO, and more.
Your Website Design Does Not Match Your Overall Strategy
Designing a website is exciting. The colors, the images, the text — it is all fun components to brainstorm and construct.
However, it means nothing if it does not align with the goals and objectives of your SaaS-based marketing platform. For this reason, our marketing agency always recommends starting with strategy before jumping to design when launching a website.
For best results, a website design and strategy must coexist. Accomplish this goal by taking the time to host a website redesign strategy session first.
In this meeting, discuss common talking points such as:
What are the goals of your website redesign? For example, is it to increase the number of visits, reduce bounce rate, increase time on site, etc.
Who is your target site user? Shape your website redesign strategy around the type of buyer that matters most to you.
What are your most important assets? Do not remove high-performing B2B SaaS inbound marketing assets such as blog posts and eBooks.
Your Website Has Little Content to Engage Customers
The content that lives on your site is one of the most important elements of every SaaS website. Good, valuable content can set your site apart from competitors. The design, imagery, and branding all play a secondary role in winning the business of your prospects.
A few tips for creating valuable content across your healthcare SaaS-based marketing website include:
Focus on your target audience's needs.
What are the common challenges your target audience faces? Share your expert advice and industry best practices to help solve their struggles.
Educate your readers instead of selling.
Don't use your content exclusively to promote your products. Readers will see right through these tactics. Instead, focus on genuinely educating customers with practical advice they can incorporate on their own.
Quality is better than quantity.
48% of marketers want to focus on improving the conversion of their audience. To achieve this, 39% will increase spending on B2B content creation. If you share similar goals, producing as much content as possible will not accomplish more conversions. But quality, well-researched content will.
Want to learn more about the power of engaging content? Read our blog post, Healthcare SaaS: Why You Need a B2B Content Marketing Strategy.
Your Website Lacks a Compelling Story with Images and Narratives
There is a reason people read books, watch TV, and listen to podcasts: stories draw us in and stick in our minds. The same can be said for a website. Visitors are more likely to engage with visually appealing websites that exude a brand story.
It is a common misconception that beautifully designed websites are enough to generate leads. For instance, research shows that messages delivered as stories can be up to 22 times more memorable than just facts.
While images and color schemes can help form a good first impression, a compelling narrative keeps users on your site to learn more about your products and services.
Design Flaws Are Causing a Disrupted User Experience (UX)
Did you know that 79% of people who don't like what they find on one site will search for another? Can you guess what other site they visit? Your competitors. A big part of why potential clients leave a website is due to poor user experience.
Here are a few design flaws that impact the user experience for SaaS-based marketing websites:
Slow page load time
Confusing website navigation
Lack of product information
Additionally, it is imperative that your healthcare web marketing for SaaS works seamlessly across multiple devices in today's digital world. Your website must be modified for desktop, mobile devices, and tablets.
For this reason, it's best to work with expert developers that have experience designing responsive websites on various platforms. By doing so, your team can be guaranteed your website is optimized for all recommended UX best practices.
Utilize B2B SaaS Inbound Marketing Strategies to Boost Performance
One of the most critical parts of building a well-performing website is search engine optimization (SEO). Following SEO best practices helps your site rank on the top pages of popular search engines like Google. As a result, your website attracts more organic visitors and helps boost conversion rates.
There are various SEO techniques that search engines recommend implementing. The most common strategy is keyword research. It is a process in which marketers research popular terms and phrases their target customers use to find their products and services. Once a list of keywords is established, the real work begins: building SEO-driven content.
Keep in mind that while SEO techniques help rank websites higher on search engines, the content is what keeps site visitors engaged. Therefore, the two must work synonymous with one another.
Content that does not rank will have a more challenging time converting customers. However, well-ranking content that does not engage or enlighten a reader won't convert many customers either.
Looking for more tips and tricks? Read our blog post, 5 Best Practices for SaaS Marketing for Healthcare.
Partner with Spot On for a Website That Performs Well
Spot On is a digital marketing agency that specializes in healthcare SaaS-based marketing. Our team of certified marketing professionals partners with healthcare organizations across the country to design websites built on strategy. We are goal-obsessed individuals who love building websites that create experiences and boost conversions.
Are you interested in learning more about our website design and strategy services? Then, let's schedule a time to chat. Click here to schedule a meeting or contact Spot On by calling 205-690-7171.