To get ahead in the healthcare software industry, you need to stand out from the crowd. While most companies these days are already promoting themselves on LinkedIn or Facebook, to really reach your audience, raise brand awareness, and attract leads for your software, you may need to put in a bit more effort to get results.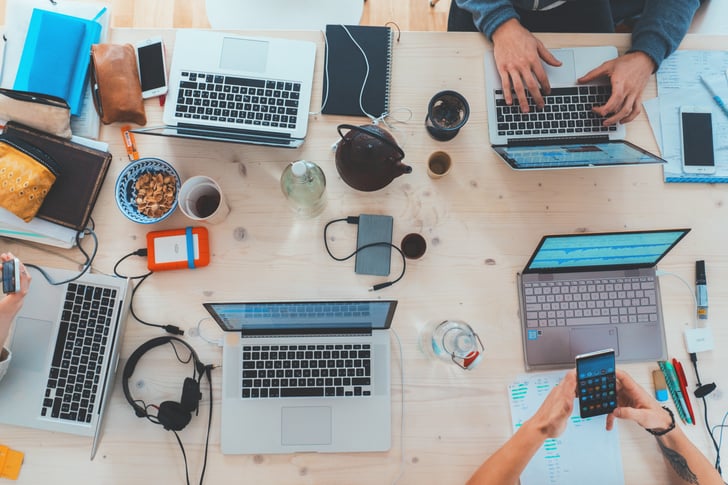 Here are a few suggestions for putting your social media content head and shoulders above the rest:
1. Go multichannel
Most B2B marketers focus their efforts on only one, or possibly two channels - usually LinkedIn and/or Twitter. The problem? Buyer behavior is changes frequently. As Entrepreneur puts it:
"Marketers should recognize that it is dangerous to focus on only one social network. Instead, marketers should develop an understanding of the target audience." In other words, build a strong social media presence on multiple channels to make sure you reach healthcare software buyers where they spend their time.
2. Use influencers
Influencer marketing is here to stay: one study found that 67 percent of marketers credited influencer marketing campaigns with reaching a more targeted audience. Identifying key influencers in the healthcare industry can be a powerful way to boost your social media performance. Tools like TweetReach can help you to identify influencers relating to your keywords.
3. Get analytical
Figure out what content healthcare software buyers prefer by using SEO analytics. For instance, putting your keywords into Buzzsumo will tell you what existing content is performing well. You can then use this information to inform the content you create and share on social media.
4. Think visual
Improve your social media performance by polishing up your visuals. Visual content helps readers retain information - critical for complex healthcare software information. Venngage offers infographic templates that are customized for use on the various social media platforms.
5. Be consistent
The most powerful thing you can do to upgrade your social media strategy is simply consistency. According to CoSchedule, you should be posting at least once a day on LinkedIn Instagram, and Facebook, and tweeting 15 times a day - if that fills you with panic, their social media automation tool ReQueue might help! Also keep in mind that frequency will be different for every company, just make sure you're doing it on a regular basis.
6. Mix it up
Boost your results by mixing up the kinds of content you share on social. Create a content calendar and fill it with a variety of different types of information that your audience will love. Some great examples:
Video. HubSpot found that more than half of consumers want to see more video from brands they support. If you want to try making your own branded videos, take a look at Typito.
Images. Images have a high impact - but obvious stock photos make you look cheap. To find more unusual photos, Unsplash has a huge range of high-quality free images.
Testimonials. Reviews from happy customers can have a huge impact. But don't fall into the trap of hard-selling on social media. Instead, share them alongside a heartfelt thank you to the customer for their feedback.
Useful resources. Share content your readers will value - PostPlanner's automated recommendation engine can help you find popular content for your target market.
Pro tips for top B2B social media channels
Things change fast in the world of social media, and it can be hard to decide which platforms are the best fit for your business. Statista reports that four channels are still holding the top spots for B2B marketing in 2018: Facebook, LinkedIn, Twitter, and Instagram. Here are a few quick tips for upping your game on each platform:
Facebook
You probably already have a clear idea about your target audience - but using the analytics function in Facebook Audience Insights can give you far more detailed insight into their job titles, online behavior, and other useful information.
LinkedIn
To get more out of your LinkedIn content marketing strategy, encourage your employees to share posts with their network. Nearly half of LinkedIn users have between 300 and 999 contacts, so if every employee shares your content you can increase your potential reach astronomically.
Twitter
Twitter can be a great forum to share original research - the most effective content for B2B marketing. Instead of delivering lengthy complex reads, break the information down into bite-sized tweets to engage your audience and establish your authority.
Instagram
To upgrade your Instagram presence, polish up your visual style. A consistent visual brand - think Coca Cola's use of their signature red in every image - will help you stand out and present your company as professional and thorough.
The world of social media can be overwhelming - so much information, so many channels, so many competitors. We hope this guide helps you sharpen up your social media content strategy and get great results. If you'd like further support and guidance from Spot On's team of digital marketing experts, please get in touch.