We've written before about how important a content marketing strategy is for healthcare software companies: it helps generate leads, save money, and keep your target customers engaged throughout the long healthcare sales cycle.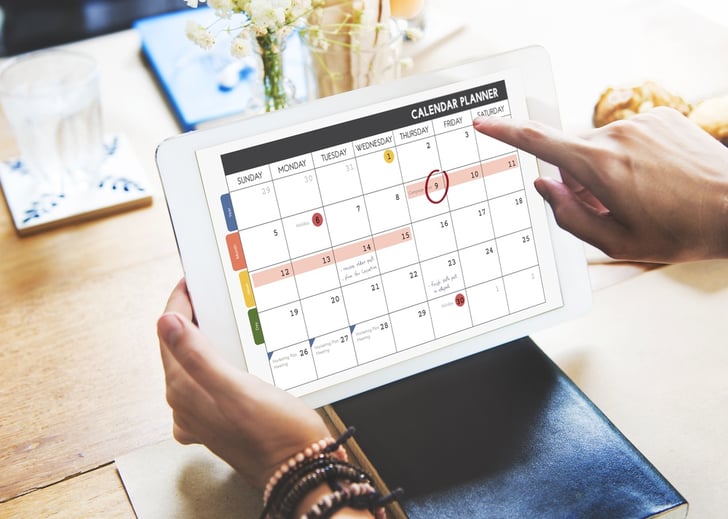 Once you've defined a solid content marketing strategy, you'll want to roll up your sleeves and start putting it into practice. But, as many entrepreneurs have learned the hard way, even a solid plan can be hard to implement - you intend to blog weekly but don't find the time, you never have enough content when you need it, or the content you have doesn't work well with your latest marketing campaigns.
Enter the content marketing calendar. This vital tool helps you implement your content marketing strategy and keep your content organized, relevant, consistent, and powerful.
A solid marketing calendar - used by everyone on your team who is involved in creating or promoting your content - is especially a must for healthcare software companies, who often have complex content marketing goals, such as educating the market, reaching multiple stakeholders, and keeping target customers engaged over the long term.
Here's our step-by-step guide to creating a high-powered content marketing calendar for your healthcare software business.
1. Before You Make Your Calendar
Before you can think about putting together your calendar, you need to make sure you're rock solid on your strategy. Everyone involved in your marketing plan needs to agree on:
Why you are doing content marketing in the first place
Who you want to read it (if in doubt, refer back to your buyer personas)
What you want them to do after reading it (contact you, download a demo, download an e-book, read a case study, etc.)
How you'll measure your results (what metrics will you track, how will you know if it worked?)
Where you'll publish and promote your content (LinkedIn, Twitter, Medium, other social media channels, your own website, industry forums, guest posts, email marketing, newsletters, etc.)
What kinds of content you'll be creating (blog posts, videos, web content, social media…)
How much content you can realistically put together in any given month
2. Choose Your Calendar Tool
The calendar that works for your team will depend on the complexity of your strategy. If you're planning to involve a lot of people, create highly complex content, or produce a high volume of content, you'll probably need a more complex solution. For most small businesses, a simpler approach will probably work better. Here are a few of the most common solutions:
Excel: A lot of companies keep it simple with an old-school Excel sheet
Pros:
The simplest option, Excel is familiar to all, flexible and free (if you've already got it)
There are some fantastic free templates available for download (like these templates from HubSpot)
Cons:
It doesn't update live, so you might end up with out of date information and duplicated effort.
Google Sheets: Still free and flexible, but with more sharing options, the Content Marketing Institute swear by Google Sheets to track their content (click here to get their template)
Pros:
Free
Gives the option for shared editing
Live updates avoid the risk of content duplication
Cons:
Can be hard to use once you're working with a larger volume of content
Trello: If you're a Kanban fan, this free project management tool will work great for your content marketing too
Pros:
Free
Follows the Agile planning structure
Easy task assignment
Cons:
You'll still need to create your content in a separate platform – it can make things easier to keep all your information, blog posts, social media updates etc. in one centralized content management system.
Mintent: Project management software designed for use in marketing projects
Pros:
Free for up to 5 users
Allows you to plan content but also track how it's doing and maximize your ROI
Cons:
Some reviewers found it a little clunky – for instance, you can't edit PDFs inside the platform.
CoSchedule: If you need a more complete calendar and/or are planning to create a lot of content, this purpose-built content scheduling app could be a fit
Pros:
Communicate about, plan and create the content, all in one place

Comes with a lot of useful extra features like automated social media posting, reusable templates, and integrated email marketing

Integrates with WordPress and Evernote (among others)
Cons:
Cost – Prices start at $60 a month for 3 users
DivvyHQ: A more complete solution if you're going for a full-blown content marketing strategy.
Pros:
Winner of the CMI award for the top content creation and workflow platform
Easy to use
Cuts back on content-related email
Cons:
It's a newer tool, and some reviewers find it a little buggy.
Again, this is a paid option – prices start at $30 per user per month
3. Complete Your Calendar
Ideally, you should have a rolling with content planned out for the next 90 days. If you're building your own version in Excel or Google Sheets, it can be list-style or one column per day, but here's what you'll need to include:
Content topic (the general category the content relates to - visit our blog for a guide on creating high-impact topic clusters)
The content title (here's a great guide from HubSpot on writing the perfect title)
Writer/creator (if there's more than one person creating content, or if you're outsourcing your content creation)
The author (for example, if the person who is creating the content is not an official author on your blog, or if you're using a ghostwriter)
Due date
Publish date
The status of the piece of content (e.g. In research, writing/creating, editing, ready for publication, promoting)
Channel (where you're going to share the content)
Format (remember that videos, visuals etc. pack a huge content marketing punch)
Persona (who are you targeting with this content?)
Call to action (what do you want people to do after viewing the content?)
Keyword(s) (while your content shouldn't be built around keywords for the sake of it, it's worth doing your keyword research and keeping these front of mind when creating content)
Resource links - for blog posts or long-form content, you'll want to keep track of relevant resources that you want to link to, as well as links to your own site
You might also want to include:
Repurposed content - To get the most mileage out of your original content, think about how you can repurpose it. A video could become a blog post, a blog post could be re-worked as an infographic, and so on.
Visuals - Keeping a log of visuals that work to boost your written content can be a great idea
Links to existing content (SmartBug suggests creating a tab on your calendar to keep track of all your existing content assets)
And of course, it's worth remembering that the most important thing to consider when creating your content marketing calendar is you - your team, your business, your resources, your available time, and your goals. Because, in the words of Kim Moutsos at the Content Marketing Institute, "Even the most advanced content calendar will fail if no one uses it."
We hope you'll find this guide to creating a content marketing calendar useful, but if you'd like our help building or implementing your calendar, just click here to schedule a free 30-minute consultation with our team.