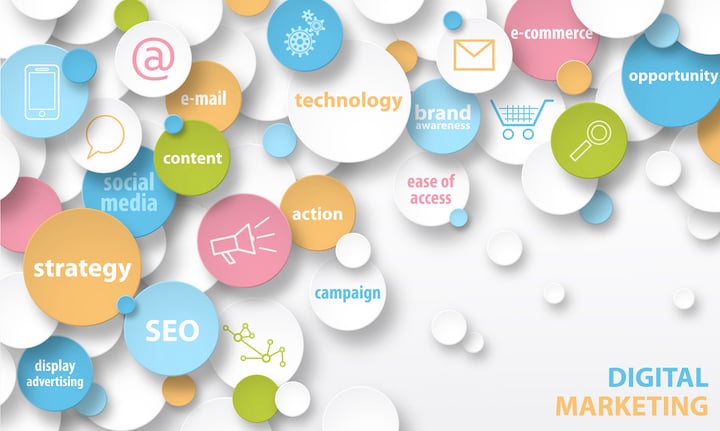 The rapid pace at which the healthcare industry is turning digital presents tremendous opportunities for healthcare software providers. However, the complexity of healthcare SaaS marketing can make growing your business an uphill battle.
Download our ultimate guide on developing and implementing your SaaS healthcare marketing strategy.
Besides the typical challenges of B2B tech marketing, such as long sales cycles and complex buying group dynamics, healthcare software marketers also have to overcome industry-specific hurdles, such as a slow pace of change and heavy regulations.
Meanwhile, healthcare software marketers need to shift their strategies to address a more diffused decision-making process, a higher reliance on peer opinions, changes in the path to purchase, the rise of omnichannel marketing, and the emphasis on thought leadership.
Implementing the right digital healthcare SaaS marketing strategy will be key to helping you reach your ideal customers, nurture relationships, progress prospects down the sales funnel, and drive conversions. The inbound methodology is particularly effective for healthcare software marketing —here's what you need to know.

What's Inbound Marketing?
Inbound marketing attracts customers by creating valuable content and experiences tailored to their needs and challenges. The methodology engages the audience with relevant and helpful information designed to address each stage of the buyer's journey, moving prospects from awareness and consideration to purchase and advocacy.
This methodology is highly effective for healthcare SaaS marketing because it helps you attract the right decision-makers and allows you to track their interactions with your content. If you can deliver the right information to the right buying group members at the right customer lifecycle stages, you'll shorten the sales process.
The Differences Between Inbound and Outbound Marketing
Unlike inbound marketing, which focuses on attracting prospects to your brand, outbound marketing involves reaching out to people and telling them about your product. It's also known as "push" marketing because it pushes information about your products onto your prospects instead of drawing them in.
Inbound and outbound marketing strategies should be used together to complement each other. Outbound marketing can be highly targeted and its ROI is easy to measure. Meanwhile, inbound marketing helps you build relationships with prospects and is often less expensive to execute, especially in the long-term.
Key Inbound Strategies for Healthcare Software Marketing
Inbound marketing focuses on creating valuable content and putting it in front of the right audience at the right time. Here are some key inbound strategies and tactics:
Blogging and

Content Marketing

:

This is the foundation of most inbound marketing strategies. By sharing highly relevant content on your website regularly, you'll not only attract the right prospects but also enhance your credibility and build trust with your audience. Moreover, posting fresh content frequently signals your relevancy to search engines and improves your SEO ranking.
Search Engine Optimization (SEO): Since most B2B tech buyers start their research using the internet, you need to make sure that your website shows up on relevant search engine results pages (SERPs). Optimizing your website for the right keywords and improving the user experience will help you rank higher on SERPs and drive more high-quality traffic to your website.
Social Media Marketing: You can share your content with a highly targeted audience, increase brand awareness, and interact with prospects to generate leads and deliver a personalized experience that advances them down your sales funnel. In particular, LinkedIn is highly effective for B2B marketing because you can reach the right stakeholders within your target accounts.
Email Marketing: Many healthcare providers still prefer to communicate via email, making it an ideal channel to reach your target audience. Combined with a robust segmentation and personalization strategy and aided by the latest automation technologies, email marketing can help you reach your target prospects and accelerate your pipeline to drive conversions.
Loyalty and Referral Program: Cultivating customer loyalty is key to successful healthcare SaaS marketing since long-term customers are more profitable. The inbound methodology addresses the entire customer lifecycle, including loyalty and advocacy, to help you increase marketing ROI through customer retention and referral marketing.
The Pros and Cons of Inbound Healthcare Software Marketing
While inbound marketing has many benefits, you should also be aware of some common pitfalls. Here are a few pros and cons you should consider:
Pros of Inbound for Healthcare SaaS Marketing
Highly effective: Businesses that use inbound marketing can save a substantial amount for every new customer acquired. Meanwhile, a properly executed inbound strategy is 10 times more effective in converting leads than an outbound approach.
Relatively low-cost: On average, an inbound lead costs 61% less to acquire than an outbound lead. In addition, content marketing costs 62% less than traditional marketing while generating 3 times more leads.
Builds brand awareness: Authority and trustworthiness are critical to healthcare software marketing. High-quality healthcare software content helps you get onto the radar of your target audience and position you as a thought leader.
Cons of Inbound for Healthcare SaaS Marketing
Time-consuming: Healthcare B2B buyers expect valuable content that displays industry knowledge, relevant case studies, and specialist information, which takes time and expertise to create.
Requires consistency: It takes weeks, if not months, of ongoing effort to build and implement an effective inbound strategy. Many companies simply lack the dedicated resources to stay consistent.
Fast-changing market landscape: You need to invest significant time and resources in staying current with healthcare industry trends, digital marketing best practices, and the latest marketing technologies.
How to Get the Most of Inbound Healthcare Software Marketing
After weighing the pros and cons, should you use the inbound methodology for healthcare SaaS marketing? Our answer is a definitive yes —but you have to do it the smart way by accessing the expertise you need to get the highest ROI from your investment.
You can reap the benefits of inbound marketing while mitigating the potential downsides by working with a healthcare digital marketing agency with specialized knowledge in healthcare software.
We know selecting an agency can be quite a challenge. Arming yourself with the right knowledge can help you find the right partner for your healthcare software marketing needs. Download this ebook "How to Build a Successful Digital Marketing Strategy for Healthcare Software" to get started or click here to set up a time to talk.