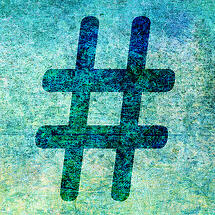 The first Twitter tweet in history, sent by Twitter co-founder Jack Dorsey in April 2006 ("just setting up my twttr," he wrote) contained no hashtag. It didn't need one – there was no need to organize his post since no other tweet then existed, and few people were around to share it. In 2007, Twitter user Chris Messina was the first to use a hashtag to identify his unique message.
Of course, in the years since then, Twitter caught fire, amassing more than 200 million users by 2011. That's a lot of tweets – and a big need to organize them. Enter the hashtag.
That strange little set of words preceded by a pound/number sign (#) has become a ubiquitous sight in social media. The purpose of a hashtag is to identify and categorize a specific type of tweet, and help it get found online. The ideal hashtag combines information with engagement to attract attention and encourage opens, retweets and other forms of sharing.
Eye-catchers abound
Twitter users like creating hashtags that will draw lots of interest, especially from a trending subject. There's even the "Oscars" of hashtags, the Shorty Awards, which recognizes tags like Hershey's #CookieHQ and Audi's #WantAnR8 as examples of compelling tags that gain lots of followers.
But you don't have to be a giant corporation like Hershey or Audi to have an effective hashtag. Small companies, says Fox Business, can "connect with people that care about their product category or business field. For instance, if your company makes hair products and you are able to post relevant content under the hashtag #hairproducts, then a whole swath of people (AKA new customers) interested in hair products can find yours under the hashtag."
Doing your hashtag homework
No one can legally "own" a hashtag, so similar-looking or spinoff-sounding tags can mislead users into thinking they're trending on some larger topic. "The golden rule for when you first start creating a successful hashtag is to use a distinctive and short word or phrase paired along with regular usage," says Social Media Today. Keep the phrasing short enough to distinguish individual words, without the confusion of something like #okhereshowyoudoagoodtag.
More ways to get found online
For years, hashtags were associated with Twitter, but recently Google+ and Facebook caught the hashtag wave. Google+, in its quest to gain Facebook-like user activity, introduced its hashtag functions in May as part of an overall site makeover. And in one way, at least, it bests the competition: Clicking a Google+ hashtag, says Nick Statt of ReadWrite, "does not take you away from the page and away from what made you click in the first place, as it does with both Facebook and Twitter."
Hash it out with an expert
Finding the right words has a major impact on whether or not you get found online, especially when it comes to hashtags, so be sure to put some thought into them. Great hashtags are made, not born – work with your inbound marketing agency or seo services provider to find words that might make an ideal hashtag for Twitter, Facebook, Google or any other social media.