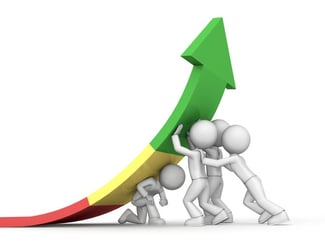 In order to discover how many companies are actually actively doing inbound marketing, the simplest, most direct way to find out is to just ask! So, every year, that's exactly what happens with HubSpot's annual State of Inbound report.
This year marks the 7th consecutive year that this exhaustive survey of marketers and sales professionals has taken place, and examines the answers to questions posed to thousands of professionals, both HubSpot customers and non-customers, from around the world. The insights provided in this report can make a huge impact on your marketing plans for the coming year, if you choose to make good use of what your fellow marketers have shared.
Since inbound marketing has now become a widely accepted marketing methodology, the most notable difference in this year's report as compared to years' past, is the shift from measuring the emergence of inbound marketing to a more specific focus on why some excel at implementing it and others don't.
Trusting the Inbound Marketing Data
The 2015 State of Inbound report included responses from the 3,957 marketing and sales professionals surveyed from around the world -- including almost 150 countries! Of this impressive sampling of those trying to figure out if inbound marketing is tried and true, only about 1/3 of the participants had an affiliation with HubSpot at the time of the survey.
The data was collected in the late half of 2015 from a robust collection of SMB companies, the majority of which worked for B2B SMBs, and were divided 50/50 in terms of revenue growth. Half were in the category of less than $1 million per year in revenue and the rest worked for companies that generate more than $1 million in annual revenue.Of this total sampling, 3 out of 4 of these marketers globally are using the inbound approach as a priority for their marketing efforts.
3 Key Takeaways Champion Inbound Marketing in 2015
SMBs solidly report they are more likely to use inbound exclusively...
...and large companies include it along with outbound marketing efforts. In either case, inbound marketing is in the mix.


The focus has now shifted from the question of whether to use inbound marketing to now improving the inbound results numbers.
74% of B2B, 70% of B2C and 60% of non-profit companies say their top priority is increasing and converting leads regardless of company size and sector.


The biggest challenges marketers report are proving the ROI of their activity and securing a bigger marketing budget for the coming year.
Inbound marketing addresses both of these struggles. Those who reported positive ROI from their inbound campaigns were twice as likely to also see an increased budget.
Many Small Businesses Rely Completely on Inbound Marketing
Of those surveyed, most small companies used inbound marketing exclusively as their core strategy. Companies with fewer than 25 employees were 6 times as likely to use inbound as their primary marketing strategy for getting leads and customers. These and other statistics reported indicate that inbound marketing continues to be the best way for small businesses to compete with the bigger budgets of their larger competitors. In fact, the affordability to small companies and start-ups with limited resources is one of inbound marketing's most appealing attributes. When elbow-grease is more available than money- to-spend, inbound marketing provides an avenue to success and serves as a stepping stone to growth that just isn't possible with outbound efforts.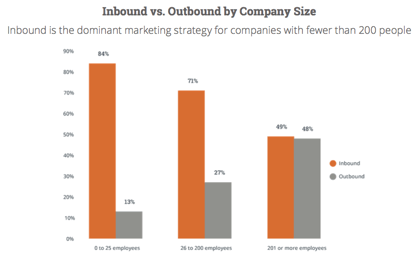 Use the Data to Win!
Delving into the findings of so many other marketers gives someone new to this type of marketing methodology a clear advantage. Many years' worth of testing has been done, and the confidence demonstrated by nearly 4,000 marketers removes any doubt about whether companies are now using inbound marketing effectively. The impact of inbound marketing is impressive, and based on the findings, provides SMB's with the greatest odds to win, by directly strengthening their marketing successes and giving them greater power to survive and thrive.