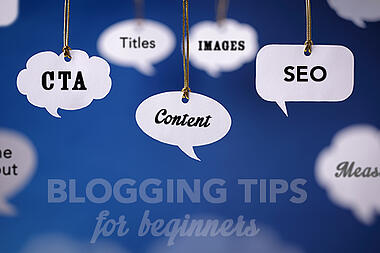 According to the inbound marketing gurus at HubSpot, as of 2010, websites with blogs netted 55% more visitors, 97% more inbound links and 434% more indexed pages than non-blogging sites.
In the three years since HubSpot shared these blog tips, business blogs have continued to boom. By 2012, experts touted the blog as a foundation for your social media platform – a way to reach customers and prospects where they live: on Facebook, Twitter, LinkedIn or any of the other many networks aimed at consumers or businesses.
Blogging takes time and commitment, but it's also one of the most cost-effective ways to get your name out and to aid lead generation in massively competitive online marketplace.
8 blog tips to get you started
Before you write a word … find out what your target audience wants to read about. Try out some sample blogs on your favorite customers (sweeten the deal with a gift card or free lunch); and check out what your competitors are blogging about to avoid becoming a me-too blogger.
Content is king. Take the advice of HubSpot and keep your blog "topical, informative and non-promotional" in nature. Whether you're targeting a B2B or a B2C audience, people are savvy to the ways of the sales pitch. But a blog that delivers genuine value – from simple how-tos to late-breaking industry updates – will help position you as an expert in your field.
Make the most of SEO. Help search engines find and index your blog by integrating your best keywords into the title, the meta description, the text and the internal links.
Remember the CTA. Your blog isn't supposed to come off as an ad, but it does support a vital part of inbound marketing – it includes a call to action that sends readers to your landing page, where they may exchange contact information for enhanced or exclusive content.
Set up a measuring tool. Simple Google Analytics to sophisticated "heat map" web stats, you can find a resource to help you track your blog's progress.
Titles grab eyeballs. Which title would you click on first?
Maintaining warehouse efficiency through strategic inventory control

The deadly dozen: 12 common inventory mistakes that can sink your warehouse
Folks like lists – they're easy to scan and suggest a quick, painless reading experience. If you can summarize your blog into a "top 10"-type format, you may snag more curious eyes. (But also mix up your blogs with other formats, like Q&A, survey or news updates.)
Images hold attention. Though a blog is text-based, you can enhance the message with carefully chosen images or even videos. You can even optimize the images with your keywords to provide yet another SEO avenue for search engines.
You'll have exclusivity if you use your actual customers, staff and product (acquiring the proper permissions before you post), but you lack the means to shoot your own masterpieces, sites like Flickr offer images in every conceivable category. Choosing the best may come easily to you, but avoid the clichés of the stock-photo world: groups of people smiling at a computer, handshake close-ups, that too-perfect smiling family.
Get the word out. No blog lives in a vacuum.
Promote it on your social networks, add hyperlinks to your email, and include a QR code in your direct mail.

Join industry-specific groups and offer to blog for them.
Patience …
Few business blogs become a viral sensation overnight. But a consistent, credible and engaging blog designed around the interests and concerns of your target audience can increase the traffic to your website and foster more qualified leads.