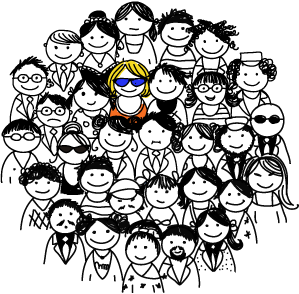 If you're actively engaging inbound marketing then layering in content personalization should not be a big hurdle for you. Since the first step is identifying marketing personas, you already know the people you're talking to and you're already aiming your content to speak directly to them. That's nice, right?
People reading your blog, seeing your social media updates and such – they see content that aims directly at their everyday lives. By now they expect this, so how do you take things up a notch to truly delight someone after they become a customer?
It's All About Them
How about your entire website revolving around them? They have been visiting your site as prospects and experienced your all-purpose website design, they read some of your awesome content aimed at their particular problem and they made it all the way down the funnel to become a customer.
How about the next time they hop on over to the website, they're greeted by name? The website is now a comprehensive resource guide for them in their new role as a customer. Tutorials, detailed support information tailored specifically to them, what might this do for your ability to retain them?
Wow!
A whole different experience that we usually don't see as a customer unless we have created an account complete with yet another set of login credentials to protect. Having a website recognize you, without that tired old login process, now that's a delightful experience!
Sounds complicated, right? Actually, intricate would be more accurate. Think of your website as a giant flow chart. All that's needed are the right kind of tools and the time to map this flowchart to output the right webpages in place for your customers. The amount of time and effort it would take will depend on how many customers you have and how much can be combined for groups of customers.
You will need to generate content on a regular basis for these groups of customers in addition to leads and prospects. Think of the things that make people happy in a brick and mortar, in-person environment. Having someone greet them by their first name when they walk in is nice. Remembering what they were doing on their last visit is wonderful. Being able to pick up on a conversation from the most recent visit or anticipate specific needs and providing for them is nothing short of delightful!
Smart Content Makes it Personal
This experience is created on the web through the use of Smart content. Smart content is in turn dependent on Smart lists. Here are the steps to putting it in place:
Design your website on a Smart content delivery platform

Publish your default, all-purpose website.

Design separate web pages with content that will be displayed only to visitors who meet specific criteria from everything you already know about them. For example: having completed mounds of paperwork that go along with servicing customers and your experience allow you to anticipate information the customers need, place it on your website as smart content that will only be delivered to specific customers.

Perhaps you can take it up another notch by timing the content. New customers receiving more basic, beginner-oriented information related to their relationship with you and replacing it with different, more advanced content as time progresses..

Over time you can get more and more precise with your content the more you learn about your customers.
Inbound marketing gets more complete with time. Personalization of content takes it to a whole new level. Imagine the efficiencies you can add for customer service issues and providing access to all types of information, including video, to help your customers. Now think of this in terms of being able to retain them and keep the competition at bay. Today is the best time to get started with personalization of content, before your competitors beat you to it!