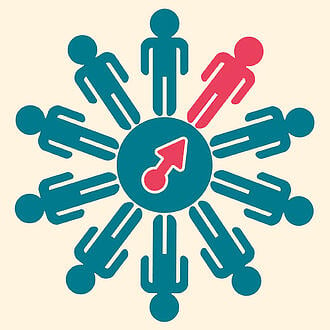 Get to the top of Google: the prime directive of every web page owner. Of course, multiply that goal by untold millions of pages, and you can understand why getting top SEO results is a challenge. But
you can take steps to improve your rankings.
Know your keywords
Keywords – the DNA of every web page – are the single biggest factor that drives top SEO results. Choosing good keywords is both a science and an art, but every keyword strategy begins on the foundational choice of short-tail or long-tail.
Short-tails run up to three words and reflect the most basic information a user may enter. Long-tails of four or more words work better at targeting a specific search type.
If you were a baker, for instance, the short-tail keyword like "chocolate cake" nets millions of results, but puts your page in competition with local and national bakers, plus cake recipes, reviews, photos, Wikipedia entries and all sorts of other results.

A long-tail keyword – "best chocolate cake for formal parties," or even "buy chocolate cake Philadelphia" – draws far fewer results, but more targeted ones. If your blog or homepage contains long-tail keywords, your page could appear higher in the search results.
To determine your top keywords, Google Analytics gives a solid free option, a permanent role in your website development.
Blog, then blog some more
You could argue that blogging takes time and resources; or that "everyone does it," so why should you jump on the bandwagon?
But you can't argue with the numbers: According to the Inbound Marketing authority HubSpot, companies that blog enjoy 55% more web traffic and 77% more leads than companies that don't blog. Creating customer-focused blog articles (plus videos, infographics, whitepapers and other content) is an ideal way to boost your company's profile, enhance credibility and integrate your top keywords for top SEO results. A well-placed call-to-action then draws visitors to your landing page, where you might convert them into leads.
Keep the blog articles coming to build momentum and keep visitors coming back for more.
Create redirects
Not every user enters a URL the same way – and to a search engine like Google, URLs typed with the "http" or the "www" are different from the ones that don't. Users may also commit common entry errors, like using .com when you company's URL ends in .org, .ca, or some other suffix.
To mitigate the risk of your user hitting an error page, have your developer integrate redirects. This algorithm forwards one URL to another one. Redirects come in three flavors, but the one best for your needs is the 301 (Permanent) redirect. As SEOmoz explains it, a 301 "indicates to both browsers and search engine bots that the page has moved permanently. Search engines interpret this to mean that not only has the page changed location, but that the content, or an updated version of it, can be found at the new URL."
Use alt tags and other accessibility tools
Sure, it's easy for a search engine to read words … but it's a lot harder to "read" images. Consider, too, the challenges of sight-impaired visitors to your site – are they going to be able to access your content easily?
Alt tags address both issues. Your developer can embed logos, photos and illustrations with textual data that a search engine can "read" and define for SEO purposes. At the same time, screen-reading technology provides audio descriptions of text and images for sight-impaired visitors. And remember, use keywords in those descriptions.
Don't forget the metadata
Search engines like Google and Chrome "crawl" web pages, finding text content to index each page. The better the indexing information, the higher the page ranks on a search result. Research suggests that users pay more attention to the pages displayed in the upper half of the first page of results – they're not big on scrolling. So the lower your page appears, the more chance it will be lost to searchers.
Metadata can help. Your designer or developer can show you where to access the Properties tab on your page. There you'll see fields into which you enter basic information about your page: its title, subject, product/service information, contact information and, of course, relevant keywords. Below find a metadata example, yours will look similar to this: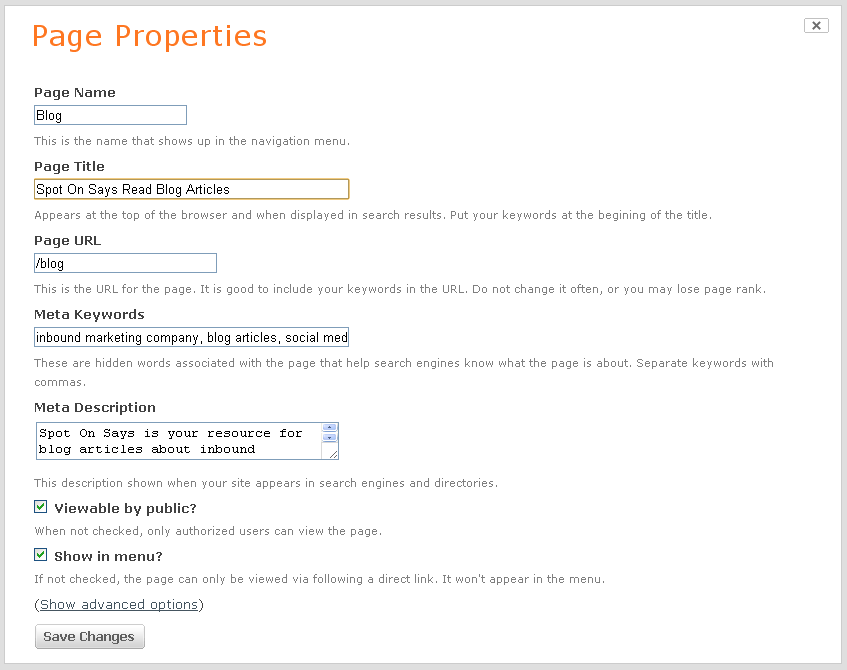 Once you enter this information, a search engine uses the metadata to accurately define the page and rank it higher for top SEO opportunities. Create metadata for every page of your website to accommodate every kind of search term your visitors may use.
Get networked
If your product or service is tied to a larger industry, look for related sites and offer your URL as an outbound link. You may find more success if you have employed inbound marketing tactics like blogging to build credibility – just be certain that the site you link from is as credible and trustworthy as your own.
Want more? Download Top Tips to Get Found Online for a quick checklist of things you can do to boost your "findability".
Updated for June 2017