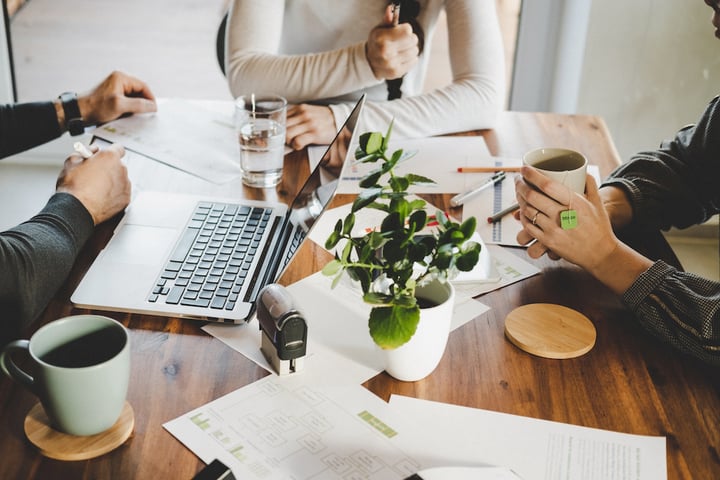 Some software companies make having a strong digital presence in the marketplace look easy. What you don't see, however, is the work that goes into achieving a high level of visibility and credibility. There are many approaches a company can take to creating a digital presence. In fact, deciding which method best fits your company will be one of the most important marketing decisions you can make. .
Download our ultimate guide on developing and implementing your SaaS healthcare marketing strategy.
For example, you can hire an in-house team, find an agency, or recruit freelancers to support your efforts. However, to see tangible results in terms of leads, sales calls, and closed deals, we'd highly recommend that you partner with a healthcare digital marketing agency that specializes in software companies. Here's why:
Agency vs. In-House
An in-house marketing team is a must for any growing business, but often it takes a while for a small or mid-size company to scale up to this level. If you want to see significant growth in the healthcare software sector, you would be better off investing your budget in the right digital agency instead of hiring a few more people. In comparison to a new employee, a marketing agency can provide:
Greater knowledge of the healthcare software sector

The healthcare software industry is both competitive and complex. While your new hires might develop a grasp of your products and market over time, if you partner with a digital agency who knows how to market healthcare software companies, they will be able to hit the ground running. With a deeper knowledge of the industry, an agency team already knows which marketing approaches have been most effective for other healthcare software businesses.

A broader range of marketing skills

A new hire, no matter how gifted, cannot be all things at once – they will have particular strengths and weaknesses, and gaps in their skillset. When you hire a digital marketing agency, you have access to a full team of specialists who can advise you on everything from strategy to implementation, from social media to marketing automation, and from email copy to conversion optimization. They will be more flexible, responding to changes in your needs as you grow, and more easily able to scale up their services as your business grows.

A more senior perspective

Unless you're hiring a Chief Marketing Officer, any new employee will be more focused on implementation and tactics than strategy. When you partner with an experienced agency, they will be able to implement the methods and offer high-level discussions on business strategy, comprehensive marketing planning, and the confidence to bring in new ideas and approaches.
Agency vs. Freelancers
For any growing business, it can be very tempting to work with a freelancer or recruit a team of freelancers, rather than pay agency pricing. Freelancers tend to be cheaper and are sometimes quicker to onboard. Unfortunately, this can often be a case of "you get what you pay for." When compared with freelancers, digital agencies can offer you:
More transparency

Unlike freelancers, who can be something of "an unknown," a great digital agency will be able to provide glowing testimonials, impeccable online reviews, and detailed case studies explaining exactly what they do to market healthcare software companies. They may also have a recognized certification, such as a Hubspot partnership, which can help give you peace of mind that the money you spend on your marketing efforts will deliver a robust return on investment.

More agility

If your freelancer gets sick or decides to accept a full-time job, your marketing efforts may grind to a halt. With an agency, the team will work collaboratively to make sure that you always feel supported and see consistent, high-quality results. After all, marketing agencies depend on their reputation for future business, so it's very much in their interest to keep every client happy.
How do you know you've found the right digital marketing agency for your healthcare software business?
If you've decided to hire a digital marketing agency, you may wonder how you can know when you've found the right one. What should you expect from your new marketing partner? What's the difference between a good agency and a great one?
Here are a few signs that you've found a healthcare SaaS marketing partner worth your budget:
1) They behave like a business partner, not a service provider.
For starters, you should expect them to spend significant time getting to know your specific niche, your product, your market, your challenges, and what you've already done in terms of marketing so far. An agency that has a clear grasp of what features your customers most value will be in a much better position to help you stand out, especially in a crowded space like healthcare tech. You should expect them to conduct an audit of your current marketing efforts so that they know exactly where you need to improve and can measure their results.
Once they've grasped your current situation, you should expect clear strategic planning to follow. They should provide you with a roadmap with milestones, detailing what you can expect at each stage, and how they've arrived at each proposal. If you feel like you're getting a one-size-fits-all plan that doesn't reflect your unique product, market, and USP, then run for the hills!
You should also feel that your agency is investing time in building a relationship with you, the client. They should be good listeners, making sure they deliver what you're asking for and responding promptly to your feedback. You should feel that you have a long-term partner in your business rather than a service provider who will deliver a single short-term project. They should continue to hone the business and marketing plan as you move forward, in response to your company's growth and changing market dynamics.
2) They demonstrate a deep understanding of the healthcare software sector.
If you've found the right marketing agency, they will not only have glowing reviews and case studies specifically from the healthcare software industry. You'll also notice their industry expertise when they start working with you.
Once they've developed a clear understanding of your current situation, you should expect to receive a customized digital marketing strategy that draws on a clear understanding of the healthcare software industry. You should see that they know the right places to pitch for guest content, which industry publications will be right for your audience, and which keywords will be most relevant for your content marketing plans. They should not only have the knowledge to build an impactful strategy but also the editorial staff with the industry expertise to create high-quality content, such as blog posts and guest articles, written on your behalf.
3) They should deliver measurable, data-driven results.
If you've found the right partner for your healthcare software company, they should be working from real-world data to deliver tangible results. You should not only expect useful reporting on a regular basis; your agency should also be able to explain what has caused the results that you see. A great digital marketing agency should focus on the right metrics– you should be seeing shifts in the KPIs that matter the most, like leads conversion rates, demo requests, increase in client meetings, SEO rankings, and the number of closed deals.
Find out more about how a digital agency can market healthcare software companies
If your current marketing agency or in-house team is unable to create measurable data-driven results, then it might be time to research alternative approaches. At Spot On, we take the time to understand each software company's unique selling points and customer priorities. Recently, we worked to build and implement a strategy for our client Prevounce and were able to deliver a 1,600% increase in the number of deals closed, an 8,600% increase in meetings, and a 2,000% increase in demo requests within 8 months.
Additionally, our rich network of healthcare media relationships complements our digital strategies, allowing us to promote healthcare software companies with high quality targeted content published in reputable industry publications, increasing online brand awareness.
If you'd like to find out if we'd would be a good fit for your business, then let's talk! You can schedule a time to chat with us here.